Healthy Living and Social Care theme launched as part of Red Tape Challenge
The Healthy Living and Social Care theme of the Red Tape Challenge launches today. The 6-week long initiative invites healthcare professionals…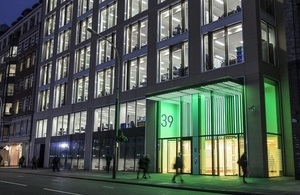 The Healthy Living and Social Care theme of the Red Tape Challenge launches today.
The 6-week long initiative invites healthcare professionals and the public to comment on regulations covering a range of areas including quality of care, mental health, the NHS,  public health and professional standards.
Since its launch in April 2011, the Red Tape Challenge has looked at regulations across government that have an impact on business, the voluntary sector or the public.
The Department for Business, Innovation and Skills is also launching its 'Focus on Enforcement' review, which is part of the government's commitment to regulate all businesses more efficiently.
Public Health Minister Anna Soubry said:
"This Challenge will give the public, healthcare workers and clinicians a vital opportunity to let us know how we can improve the way we regulate or how we can do things differently, whilst ensuring the public is protected.

"We will use the feedback they give us to plan how to get rid of requirements that are no longer needed, freeing up business from unnecessary red tape and giving health professionals more time to care for patients."
Published 6 November 2012