News story
Health Secretary Jeremy Hunt on his reappointment
Prime Minister David Cameron has confirmed that Jeremy Hunt will continue as Secretary of State for Health.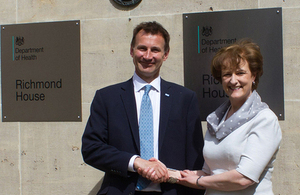 Jeremy Hunt said:
I am humbled to be reappointed Health Secretary, not least because of the enormous responsibility for hundreds of thousands of doctors, nurses and other NHS staff who are working incredibly hard right now and under enormous pressure.

To them I want to say a heartfelt thank you for all their efforts, with a simple message: like you, I want the NHS to be the safest, most caring and highest quality healthcare system in the world. After Mid Staffs we have started a journey to get there - but if we are honest there is still further to go.

My biggest priority now is to transform care outside hospitals - just as we have dramatically improved the quality of care inside hospitals in the last few years. All of us want every single older and vulnerable person to be treated with the highest standards of care - so we need a step change in services offered through GP surgeries, community care and social care. That is my mission, and I know it is the mission of the whole NHS too.

I look forward to working with our brilliant frontline professionals to truly make our NHS the safest and most caring healthcare system in the world.
Published 12 May 2015