Press release
Health matters third edition published
The latest edition of Health matters provides resources to help public health professionals tackle harmful drinking and alcohol dependence.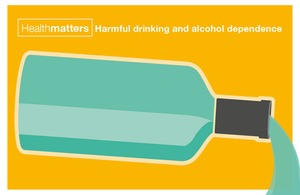 Investing in effective alcohol treatment not only reduces harm and helps people recover but also plays an important role in reducing health inequalities, according to the latest edition of Health matters.
Harmful drinking and alcohol dependence is the third edition of Public Health England's (PHE's) Health matters resource for public health professionals, designed to support commissioning and the delivery of services across local areas.
New UK guidelines advise adults to drink no more than 14 units of alcohol a week. It is estimated that over 10 million adults are drinking above this, posing some risk to their health. An estimated 1.6 million adults may have some level of alcohol dependence. Some of them may benefit from specialist treatment and they are the focus of this edition of Health matters.
The impact of harmful drinking and alcohol dependence effects the most vulnerable groups in society - those in the lowest income bracket and those experiencing the highest levels of deprivation. Effective treatment therefore has the potential to improve wider inequalities, such as child poverty, employment and social isolation.
Health matters brings together, in one easily accessible package, local and national level data, as well as campaigning and social marketing resources – all presented in an easy-to-use format that will help support investment in alcohol treatment services.
Health matters includes stats that illustrate the scale of the problem posed by harmful drinking and the impact of alcohol on health. There were 17,432 deaths from liver disease in England between 2011 and 2013 – fueled by alcohol misuse.
Launching Health matters today, PHE Chief Executive Duncan Selbie, said:
Harmful drinking is a problem affecting individuals, families and communities.

This third edition of Health matters sets out the facts and how local authorities and the NHS can deliver effective alcohol treatment services.
Jayne Randall, Drug and Alcohol Commissioning Lead at Shropshire Council, said:
This edition of Health matters provides a very good overview of the issue of harmful drinking and the impact this has on not just the individual but also the wider society.

The resource is useful for making the case for commissioning effective alcohol treatment services. Not only is this cost effective but it can also contribute to alleviating some of the other social issues that impact on council services, such as safeguarding, poverty and homelessness. Making the connections to why councils have to maintain investment in alcohol treatments is really crucial.
Subscribe to regular email updates about Health matters.
Background information
Health matters on Harmful drinking and alcohol dependence is available GOV.UK. See also:
The Health matters resource will be supported and linked to a wide range of content. Some will be released today (21 January 2016) and further content will be published throughout the coming month across a variety of channels.
The new UK Chief Medical Officer's alcohol guidelines advise both men and women to not drink more than 14 units of alcohol per week, spread out at least over 2 to 3 days.
Public Health England exists to protect and improve the nation's health and wellbeing, and reduce health inequalities. It does this through world-class science, knowledge and intelligence, advocacy, partnerships and the delivery of specialist public health services. PHE is an operationally autonomous executive agency of the Department of Health. Follow us on Twitter @PHE_uk, and Facebook www.facebook.com/PublicHealthEngland.
Public Health England press office
Published 21 January 2016