Case study
Improving prescribing at the Royal Free Hospital
This document explains how a new drug chart improved antimicrobial stewardship at the Royal Free Hospital.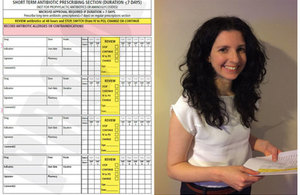 Summary
The spread of bacteria resistant to antibiotics is an important health threat. It means that antibiotics may no longer work when needed to treat infections.
Antibiotics are unlike other drugs used in medicine, as the more we use them the less effective they become.
The efficacy of antibiotics can be conserved through antimicrobial stewardship (AMS) programmes.
The aims of AMS initiatives are to:
improve the safety and quality of patient care
contribute significantly to reductions in the emergence and spread of antimicrobial resistance (AMR)
The Start Smart then Focus (SSTF) toolkit is designed to improve AMS in secondary care. It is a recommended resource for AMS included in NICE guidance on antimicrobial stewardship.
Read Health matters: antimicrobial resistance for more information about AMR.
Royal Free Hospital: prescribing quality audit
An audit of antibiotic prescribing quality at Royal Free Hospital in February 2014 showed poor compliance to SSTF principles. For example, on drug charts, staff didn't state clearly the indication and duration of antibiotics.
What was involved
In response to the audit, the Royal Free designed a specific antibiotic prescribing section for drug charts, and ran a pilot. This pilot tested if the chart improved how staff recorded indication and duration of antibiotics.
After a successful pilot, the trust drug chart was redesigned with a specific section for short term antibiotics.
This included a new section for 48 hour review, allowing prescribers to:
review whether the patient needs to stop or switch antibiotics
see what the antibiotic prescribing decision was
Marisa Lanzman, senior pharmacist, antimicrobials, Royal Free London NHS Foundation Trust, said:
The specific section on the drug chart for antibiotics has made short term antimicrobial prescriptions more prominent than on the previous chart.

The chart also limits prescriptions to a maximum of 7 days. The review section makes the choice of options at 48 hours clearer and allows prescribers to sign off their antibiotic prescribing decision.

The drug chart was launched at the Royal Free Hospital in August 2015 and an audit was carried out in September 2015 to look again at antibiotic prescribing quality.
Pilot outcomes
191 antibiotic prescriptions were reviewed over a 1 week period. 77% of prescriptions were prescribed on the correct section on the drug chart.
Improvements were seen in:
documentation on the drug chart of indication for antibiotic therapy (27% increased to 74%)
The pilot highlighted a need for further training and improvement in the documentation of:
duration on the drug chart (completion rate 47%)
the 48 hour review on the drug chart (completion rate 30%)
Previous audits have shown that documentation of the 48 hour review in the notes is 74%. This has not yet translated to documentation on the drug chart.
Compliance with antibiotic guidelines improved from 77% to 90%.
| Prescribing Quality Criteria | % compliance pre drug chart launch (point prevalence survey February 2015) | % compliance post drug chart launch (September 2015) |
| --- | --- | --- |
| Indication for antibiotics written on drug chart | 27% | 74% |
| Compliant with antibiotic guidelines or micro/ID advice | 77% | 90% |
| Duration or stop/review date on drug chart | 35% | 47% |
| Review section completed | not available | 30% |
What works well
The Royal Free Hospital's strengths in antimicrobial stewardship include:
high compliance with antibiotic guidelines, resulting in improved antibiotic prescribing practice
commitment to tackling antimicrobial resistance through antimicrobial stewardship
improvements in surveillance through keeping better prescribing records
What could be better
There has been a significant increase in documenting prescribing decisions at the Royal Free Hospital. The audit recommends:
indicating prescribing decisions on every prescription to help review prescriptions
engaging further with clinical staff to review antibiotics at 48 hours to consider switching to narrow spectrum antibiotics
Next steps
Marisa Lanzman, senior pharmacist, antimicrobials, Royal Free London NHS Foundation Trust said:
This audit in 2015 has shown that the new design of the drug chart has improved antimicrobial stewardship within the Royal Free Hospital and resulted in better prescribing behaviour.

The results of this audit were disseminated to the Antimicrobial Stewardship Committee and will be shared throughout the Trust.

They will continue to shape further initiatives within the hospital to improve antimicrobial stewardship and assist with training prior to implementation of the drug chart across other sites in the Trust.
Further information
Public Health England provides resources for local public health organisations and healthcare professionals to slow the growth of antimicrobial resistance. Please contact HCAI@phe.gov.uk for more information.
Published 10 December 2015