Press release
HCA publishes Statistical Data Return 2015 to 2016
The HCA's Statistical Data Return has been published today, Tuesday 11 October, for the fifth consecutive year.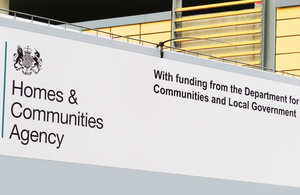 The Statistical Data Return 2015 to 2016, published today (11 October 2016) by the Homes and Communities Agency, has seen the largest increase since 2012 in the total stock owned by private registered providers of social housing.
Now in its fifth consecutive year, the SDR is the only annual survey of private registered providers (PRPs) in England that collects comprehensive data on stock type, size, rent and location of social housing stock at 31 March each year, and data on sales and acquisitions made between 1 April and 31 March. For this year's return, 95% of PRPs overall and 100% of large PRPs (owning 1,000 or more units) submitted information in April and May 2016.
Key trends in the 2015 to 2016 Return include:
private registered providers of social housing reported 2,761,690 units/bed spaces owned at 31 March 2016, an increase of 2.0% on the total for 2015 – due to a combination of new supply and a significant stock transfer earlier in the year

affordable rent stock has increased by 31% (from 123,264 units/bed spaces in 2015 to 161,193 in 2016) – which was the main type of new rented social housing supply during the period

supported housing increased by 6.5% (7,700 units/bed spaces) between 2015 and 2016 – the general upward trend seen over the last 3 years has continued, although the rate of increase was greater between 2015 and 2016 than in previous years

the average net rent (at £97.84 per week) for general needs stock owned by PRPs with more than 1,000 units/bed spaces represented an increase of 2.0% since 2015 – this reflects a combination of new homes added to providers' stock and increases in target rents in line with the formula in place during 2015 to 2016
Jonathan Walters, HCA's Deputy Director Strategy and Performance, said:
The Statistical Data Return is a very useful set of national statistics that capture PRPs' stock holdings, business structure and activities on an annual basis. We use the information to inform our risk-based and proportionate approach to regulation and it is also widely used by various stakeholders to better understand the housing association market.

This year's figures show that providers are taking an increasingly active approach to asset management and development.
The SDR 2015 to 2016 statistical release document, a full data spreadsheet and zip file, additional tables, a data quality report and a pre-release access list are available on the Statistical Data Return 2015 to 2016 page of the HCA website.
Further information
Previous SDRs are available on the HCA website.
The Homes and Communities Agency (HCA) is the single, national housing and regeneration delivery agency for England, and is the regulator of social housing providers.
As regulator, its purpose is to promote a viable, efficient and well-governed social housing sector able to deliver homes that meet a range of needs.
It will do this by undertaking robust economic regulation, as enshrined in legislation, focusing on governance, financial viability and value for money that maintains lender confidence and protects the taxpayer.
For more information visit the HCA website or follow us on Twitter.
Published 11 October 2016