Hammond – we owe troops honesty and certainty
Philip Hammond gave his first newspaper interview as Defence Secretary on Friday, during a visit to British troops who have been involved in the Libya campaign from Italy's Gioia del Colle airfield.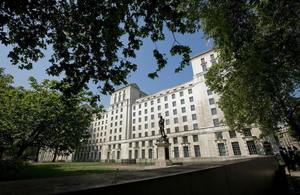 Mr Hammond was visiting the airfield when NATO announced that the operation to protect the people of Libya and enforce a no-fly zone and arms embargo would conclude today, Monday 31 October 2011.
During the visit Mr Hammond spoke to the Sun newspaper, that published extracts from the interview this weekend.
He told the newspaper that he would make the care of wounded troops a priority and despite cuts to Defence he said that the UK will still remain a first-rate power with world-class Forces.
He also said he would hand the power to make military decisions back to Service Chiefs and slash MOD waste. He stressed he recognised the brilliance of our Forces.
Mr Hammond said:
I understand the huge national pride we have in our Armed Forces. With the sacrifice our troops are making, we owe them honesty, certainty, and to deliver results.
He added:
With respect to jobs being cut, yes, I regret it immensely. Do I wish I had a bigger budget? Yes. But we need our economy in order.
It's what our Armed Forces do every day — take on impossible tasks and deliver. We are still among the most capable, competent and respected Forces in the world. The North Koreans or Chinese may have a million men in uniform but it's about how you perform.
Mr Hammond said the Government will consider either setting up a committee or introduce a specialist minister to care for the interests of wounded soldiers.
Mr Hammond also said he will get to grips on MOD overspend on equipment procurement, adding:
I need to get what I want at less cost. It's all about maintaining the teeth but reducing the tail.
On Afghanistan, Mr Hammond said that front line troops would get "as much support as possible." He said it was "an operation of forward defence — taking the battle to our enemy rather than fighting it in London."
Regarding operations in Libya, Mr Hammond said:
Our Armed Forces can be immensely proud that their hard work has assured the liberty of the Libyan people. This is a job well done and we will be sending our crews home from tonight (Friday 28 October). I have given my personal thanks today to some of the aircrew and support personnel at Gioia del Colle.
Published 31 October 2011