End of Libya operations announced by NATO
British military assets used in operations over Libya are on their way home tonight, following today's decision by NATO to conclude the mission on Monday 31 October 2011.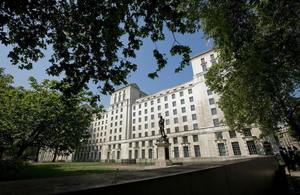 Visiting Italy's Gioia del Colle airfield, where many of the UK air assets have been based throughout the campaign, Defence Secretary Philip Hammond today approved the immediate return of six Tornado GR4 fast jets.
The news of NATO's decision came through while Mr Hammond was in Italy, enabling him to give the go-ahead to the initial drawdown, which will also see dozens of supporting staff return home.
Operations will continue until 31 October, but the number of missions will be scaled down significantly; meaning fewer aircraft are required.
The remaining British air assets, including another 10 Tornado GR4s, two VC10 tankers and two E-3D Sentry aircraft will return to the UK over the coming days. HMS Liverpool will begin its journey back to UK waters over the weekend.
On his visit to meet UK personnel deployed on Operation ELLAMY - as Britain's contribution to the campaign has been known - the Defence Secretary paid tribute to their work.
Mr Hammond said:
Our armed forces can be immensely proud that their hard work has assured the liberty of the Libyan people. This is a job well done and we will be sending our crews home from tonight. I have given my personal thanks today to some of the aircrew and support personnel at Gioia del Colle.
Today's NATO announcement brings to a conclusion one of the most successful military campaigns that NATO and UK forces have conducted, and marks the point at which withdrawal of individual nation's forces can commence.
At the peak of operations, the UK had 2,300 personnel, 32 aircraft and four ships committed to ELLAMY. The UK has flown more than 3,000 sorties, more than 2,100 of which were strike sorties, successfully striking around 640 targets.
Published 28 October 2011