Press release
GVK Biosciences: MHRA responds to European Medicines Agency's recommendation to suspend medicines
MHRA's response to EMA's recommendations to suspend medicines.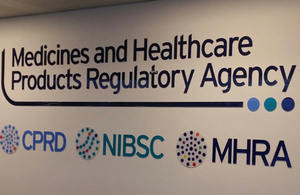 Following the European Medicines Agency's (EMA) Committee for Medicinal Products for Human Use (CHMP) recommendation today to suspend the licences for some medicines licensed in the European Union (EU) that were based on clinical trials conducted at GVK Biosciences' site in Hyderabad, India, Dr Samantha Atkinson, Deputy Director of MHRA's inspection, enforcement and standards (IE&S) division said:
This is a precautionary measure. There is no evidence to suggest that these medicines are not safe and effective and people should continue to take their medicines as prescribed.

This recommendation will now be considered by the European Commission and it will make the final decision as to whether the suspensions should be imposed. If the recommendation is adopted by the Commission, we will work with our colleagues at the Department of Health to ensure people have access to the medicines they need.
Background
The EMA's recommendation is based on an inspection by the French medicines agency (ANSM) in 2014 at GVK Biosciences' Hyderabad facility. The inspection cast doubt on the way clinical trials were performed at the site and therefore the reliability of bioequivalency data used to support the granting of a medicine's licence. However there is no evidence that these medicines are unsafe and people should continue to take their medicines.
See the EMA press release
See a full list of medicines potentially impacted available on the EMA website. We are currently reviewing this and will make a final decision once the European Commission has made their decision.
MHRA is responsible for regulating all medicines and medical devices in the UK by ensuring they work and are acceptably safe. All our work is underpinned by robust and fact-based judgements to ensure that the benefits justify any risks. MHRA is a centre of the Medicines and Healthcare Products Regulatory Agency which also includes the National Institute for Biological Standards and Control (NIBSC) and the Clinical Practice Research Datalink (CPRD). MHRA is an executive agency of the Department of Health. See MHRA's website
Media enquiries
News centre
MHRA
151 Buckingham Palace Road
Victoria
London
SW1W 9SZ
Email newscentre@mhra.gov.uk
During office hours: 020 3080 7651 (08:30 - 17:00)
Out of office hours: 07770 446 189 (17:00 - 08:30)
Office hours are Monday to Friday, 8:30am to 5pm. For real-time updates including the latest press releases and news statements, see our Twitter channel at https://www.twitter.com/mhrapress
Published 23 January 2015