Growth, investments and job creation on the agenda at EU-Africa Summit
Minister for Africa, Henry Bellingham will represent the British Government at the third European Union-Africa Summit which takes place in Tripoli on 29 and 30 November.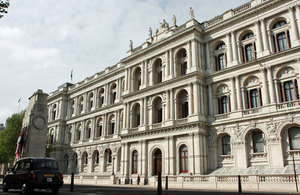 Heads of Government from Europe and Africa will attend the Summit. European Union Institutions will be represented by Herman Van Rompuy, President of the European Council and Jose Manuel Barroso, President of the European Commission.
The Summit gathers leaders and representatives from 80 nations representing more than 1.5 billion people. The overarching theme is 'Growth, investments and job creation'.
The Partnership between Africa and the European Union is of key strategic significance to both sides. The Summit is a chance for the EU and Africa to coordinate action to improve African security, trade opportunities, infrastructure development, and combat climate change. Specifically, the Summit will discuss ways to promote the private sector and regional integration in Africa to promote sustainable economic growth and employment.
The Summit also provides an opportunity for delegates to discuss issues such as the upcoming Referendum in Sudan, conflict prevention, piracy, good governance, achieving a sustainable energy market, food security, combating HIV/AIDS, achieving the Millennium Development Goals, addressing the challenges of migration, and promoting gender equality.
During his time at the Summit, Mr Bellingham is expected to hold a number of bilateral meetings with African Heads of State and Ministers.
Published 29 November 2010