Press release
Groups honoured for 'life-changing' work at House of Commons ceremony
Organisations that have helped transform the lives of disabled people have been recognised at an awards ceremony to promote accessibility.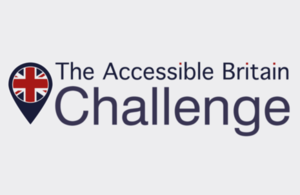 Groups from across the country were honoured for their efforts at the Accessible Britain Challenge Awards 2015, which took place earlier today at the Houses of Parliament.
The YMCA Community Gym in Peterborough and London-based live music accessibility charity Attitude is Everything triumphed in their categories, alongside the Safe Place Scheme from Poole and the Corporate Disability Forum based in West Cheshire.
A number of other shortlisted projects were highly commended for the difference they have made to disabled people's lives and enjoyment.
Minister of State for Disabled People Mark Harper said:
What's so special about these awards is that nominations were made by disabled individuals or organisations. People came forward to nominate these finalists because they know from first-hand experience that the work they do is life-changing.

It was an absolute pleasure to attend and to meet individuals who are so committed to making Britain more accessible. I hope this will encourage more organisations to think about the needs of disabled people and help drive the UK forward to become a truly Disability Confident nation.
Gareth Tancred, CEO of the British Institute of Facilities Management (BIFM), professional body for facilities management, said:
Today's winners have made a real difference to the lives of disabled people. With the same level of commitment from those charged with designing, building and managing our environment, we can together remove the barriers which prevent disabled people from fully engaging in all aspects of life. BIFM is delighted to be supporting the Department for Work and Pensions in spearheading this work.
As well as highlighting the importance of disabled access, the Accessible Britain Challenge Awards also highlight the huge contribution that disabled people make to society and the economy. The so-called 'Purple Pound' – the spending power of disabled households – is worth an estimated £212 billion a year and 3.1 million disabled people are now in employment.
Nominations for the awards were made by individual disabled people or disabled people's organisations. Award organisers were keen to encourage users of services to get involved and to share how they have benefitted from local projects, initiatives or social activities.
The YMCA Community Gym in Peterborough
The YMCA Community Gym in Peterborough was recognised for providing a fully inclusive gym with specialised equipment and tailored fitness programmes for people with disabilities and long-term health conditions.
The YMCA Community Gym in Peterborough
London-based Attitude is Everything
London-based Attitude is Everything were honoured for their work in improving deaf and disabled people's access to live music by working with artists, audiences and the music industry. Disabled people train venue staff on behalf of the charity and organise 'mystery shoppers' to test venues.
Safe Places in Poole and Bournemouth Scheme
The Safe Places in Poole and Bournemouth Scheme won the Safer Neighbourhoods award for providing people with learning disabilities in Poole and Bournemouth with somewhere to go when distressed or in need in their town centre. The scheme encourages shops, public buildings and other organisations to sign-up, and their team trains staff to feel confident and able to provide support if it is needed. The scheme is organised and promoted by local people with learning disabilities and nearly one hundred venues have signed up so far.
Safe Places in Poole and Bournemouth Scheme
West Cheshire Corporate Disability Action Forum
The West Cheshire Corporate Disability Action Forum (CDAF) is a partnership of local and regional disability organisations, local access groups and Cheshire West and Chester Council. It played a key role in the design of major new retail, culture and leisure facilities, ensuring that accessibility issues are taken into account. Projects to benefit from their input include the design of a new theatre, library and museum and the improvement of transport and health facilities.
West Cheshire Corporate Disability Action Forum
More information
Organisations were nominated across 4 categories:
improved mobility
innovative use of buildings, spaces and places
safer neighborhoods
inclusive social activities
We've published online resources bringing together guidance, case studies, toolkits and good practice on inclusive and accessible communities.
Accessible Britain Challenge Awards – finalists and winners
Category: Improved mobility
The Corporate Disability Access Forum – West Cheshire (Winner)
Opening Doors Better Bus Accessibility Project – Norwich
Options for Independent Living (OIL) Rail Sub Group/Essex County Council: Try a Train Initiative – Essex
Category: Innovative use of buildings, spaces and places
DOTS Disability Community Interest Company, Strategic Disability Consultation Service – Bournemouth
Nene Park Trust, Nene Park for All – Peterborough
YMCA Community Gym – Peterborough (Winner)
Category: Safer neighborhoods
Safe Places in Poole and Bournemouth Scheme – Poole (Winner)
Safe Places, Grapevine – Coventry
Safe in Town – West Cheshire
Category: Inclusive social activities
Attitude is Everything – London (Winner)
The Redbridge Autism Awareness Roadshow – Redbridge
Access for Beginners to Computing, Inverclyde Council on Disability – Greenock
Contact Press Office
Media enquiries for this press release – 0203 267 5115
Press Office
Caxton House
Tothill Street
London
SW1H 9NA
London Press Office (national media and London area enquiries only – not questions about personal claims) 020 3267 5144
Out-of-hours (journalists only) 07623 928 975
England and Wales (local media enquiries) 029 20 586 then 097 or 098 or 099
Scotland (local media enquiries) 0131 310 1122
Follow DWP on:
Published 12 March 2015