Press release
Greg Clark offers communities multi-billion pound offer to boost local growth
England's 39 Local Enterprise Partnerships will be able to apply for a share of £1.8 billion to support projects in their areas.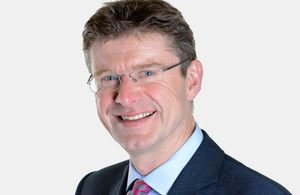 Local leaders wanting to boost skills, support business and build more homes will be offered the chance to apply for the latest round of Growth Deals worth billions of pounds, Greg Clark said today (22 March 2016).
The Communities Secretary said the deals would boost the chances of areas securing significant inward investment from overseas – he will today chair an historic summit with Chinese regional leaders to highlight the opportunities available across the country.
Under the Growth Deals, England's 39 Local Enterprise Partnerships – made up of council leaders and business representatives – will be able to apply for a share of £1.8 billion to support projects in their areas that boost local economic growth and create jobs.
The money forms part of the government's £12 billion Local Growth Fund, which is already being used to support successful projects – chosen by communities themselves.
Communities Secretary Greg Clark said:
We're completely changing the way business is done in this country, ending the top-down, 'Whitehall knows best' mentality of the past and instead putting power back where it belongs – in the hands of local communities.

With this offer of a Growth Deal to communities across the country, we're backing this devolution revolution with billions of pounds, releasing vital investment in projects across the country to boost local skills, deliver new homes and create jobs.
Devolving power and funding to communities
The government has made clear its commitment to putting power directly into the hands of communities to shape the future development of their area.
Last week's Budget included 5 new and extended devolution deals, which transfer billions of pounds and extensive powers from Whitehall to cities and counties, and paved the way for work to start on major infrastructure and housing projects, by allocating funding support from the Local Growth Fund.
This includes:
new devolution deals with councils in East Anglia, Greater Lincolnshire and the West of England
extended devolution deals with Greater Manchester and the Liverpool City Region
£475 million for large local transport projects – of which £151 million will fund 2 new crossings at Lowestoft and Ipswich
Already £7.7 billion of the £12 billion Local Growth Fund has been allocated to more than 900 projects across England to build vital infrastructure, improve skills and create thousands of jobs.
They include:
a new £2.6 million motor vehicle engineering centre at Leicester College, built using £1.23 million from the Local Enterprise Partnership's Growth Deal allocation
flood defences at Albert Dock in Hull, which were completed in November 2015. This £6. 6million project received £3 million from the Humber LEP's Growth Deal allocation, leading to 1.6 km of new flood walls being built, which has protected hundreds of homes from further flooding
Halesowen College's advanced science, engineering and technology centre: a third of the £3.17 million build cost was funded from the Black Country LEP's Growth Deal. The project will meet identified skills gaps and has the backing of major local businesses
Shipley College Grade II listed Mill Building, in the UNESCO World Heritage Site of Saltaire, which has undergone a £388,000 refurbishment. The project has received a £119,000 grant from the LEP and West Yorkshire Combined Authority's Local Growth Fund
Mr Clark urged Local Enterprise Partnerships to "be ambitious" and apply for a share of the remaining £1.8 billion Local Growth Fund to support projects in their area.
Further information
Any Local Enterprise Partnership looking to apply for a share of Local Growth Funding has until the summer to do so.
This will be highly competitive – to be successful, Local Enterprise Partnerships will need to work with partners to agree strong and accountable governance, putting forward proposals that boost growth and bring in private sector funding.
Office address and general enquiries
2 Marsham Street
London
SW1P 4DF
Contact form http://forms.communiti...
General enquiries: please use this number if you are a member of the public 030 3444 0000
Published 22 March 2016