Greening: Syrian children must not become a lost generation
A £30 million initiative to provide trauma counselling and education will help to support children affected by the fighting in Syria.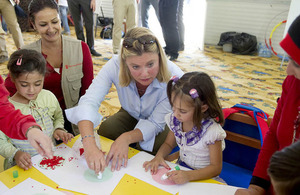 Millions of Syrian children are at risk of becoming a lost generation, International Development Secretary Justine Greening warned today as she launched a £30 million UK initiative to provide desperately needed help including trauma counselling and education.
The new programme will reach Syrian children across the region whose lives have been turned upside down by the ongoing conflict, with an initial focus on those in Lebanon and Jordan.
Speaking ahead of the UN General Assembly in New York, Ms Greening called on international leaders to follow the UK's lead. Stepping up to meet funding shortfalls would send a clear message to the children of Syria that the world had not forgotten them, she said.
At least 3.1 million Syrian children have been affected by the fighting, some 80% of them younger than 14. Children have been exposed to horrific scenes of violence and thousands have been killed. Many inside Syria are without shelter or dependable supplies of food and water while more than 1 million children are now refugees, having left everything they know behind them. A million are unable to access basic education.
Justine Greening said:
Syria's children are becoming a lost generation. While British children have been starting a new school year following a summer break, these Syrian children have often been through a living hell.

They are homeless, destitute and feel totally unsettled in their unfamiliar surroundings. Every bit of normality has been ripped away from these children at an age when feeling safe and secure really matters. They have seen their parents distraught and they are often very scared about what will happen next. They miss their friends from home.

Many are deeply traumatised after witnessing scenes of horrifying brutality and finding themselves in terrifying situations when they are too young to really understand what is happening.

Our help for what is becoming a lost generation will provide trauma care and counselling for those children who need it and basic educational supplies to try to bring some sense of normality back into their lives.

We will also provide child support services in refugee camps and hand out some basic toys and crayons to children who have had to leave so much behind.
Under the initiative, UK funding will help to provide:
counselling and psychological support for children traumatised by their exposure to conflict and displacement
educational supplies such as text books, stationery, desks and chairs
catch up classes for refugee children joining Jordanian or Lebanese schools
training for new teachers
child protection initiatives to stop exploitation and abuse of vulnerable young people, including those at risk of forced and early marriage.
Find out how the UK is responding to the humanitarian crisis in Syria and the region
General media queries (24 hours)
If you have an urgent media query, please email the DFID Media Team on mediateam@dfid.gov.uk in the first instance and we will respond as soon as possible.
Published 23 September 2013