Press release
Green light for £1 million boost to UK motorsport industry
£1 million competition to help SMEs drive motorsport technologies around the world has been put on the starting grid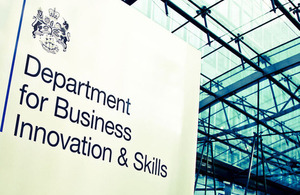 A £1 million competition to help small and medium sized enterprises (SMEs) drive motorsport technologies around the world has been put on the starting grid by Universities and Science Minister David Willetts.
The Technology Strategy Board's latest 'Launchpad' competition will give UK businesses working as part of England's Motorsport Valley, around Oxfordshire and the surrounding counties, the chance to compete for funding.
The investment will allow businesses to develop new energy and emission efficient technologies that could be transferred into the pit lanes of famous races such as the Monaco Grand Prix, Indy 500 and Le Mans 24 Hour. The technologies could also be used across the transport, aerospace and defence industries.
The 'Launchpad' competition is being opened ahead of this week's British Grand Prix at Silverstone. Universities and Science Minister David Willetts said:
The Motorsport Valley business cluster is a hotbed for innovation and a key driver for growth in the UK. With over 3,500 business employing around 40,000 people, the area is already generating global sales in the region of £7 billion.
This new £1 million Launchpad will give some of our brightest companies the chance to strengthen the industry, bring in further investment, and keep the UK as a world leader for the motorsport industry.
Chief Executive of the Technology Strategy Board Iain Gray said:
Motorsports Valley is one of a whole host of Launchpads that we are running this year. We aim to draw more investment and more people into the area and to encourage networking to strengthen this cluster of motorsport companies.
Companies in this cluster supply cutting-edge technologies and components used in the majority of world motorsport series.
The success of this sector will be demonstrated this weekend as the majority of Formula 1 (F1) cars lining up in this weekend's British Grand Prix will be using a gearbox system supplied by Berkshire based Xtrac. The company also supplied systems that were used by the entire grid of the 2013 Indy 500 race in the USA.
Another business making an impact on the global scale is Williams Hybrid Power based in Oxfordshire. The company has developed an electric flywheel energy storage system for the Williams F1 team. The system was also used by Audi in the Le Mans 24 Hour endurance race where it was the first ever Hybrid car to finish first. Adaptations of the system are now being developed for rail, tram and bus services.
Notes to editors:
1.The Motorsports Valley Launchpad is run together with the Motorsports Industry Association (MIA) acting as 'cluster champion', and with other public and private sector organisations. The competition opens today and interested companies have until 12pm on 31 July 2013 to enter.
2.Further information about this competition can be found at https://www.innovateuk.org/competition-display-page/-/asset_publisher/RqEt2AKmEBhi/content/motorsport-valley-launchpad-competition?p_p_auth=dJJGEmB9. A dedicated group for the competition has also been set up at https://connect.innovateuk.org/web/motorsport-valley-launchpad.
3.The Technology Strategy Board will be hosting a networking event on 3 July at Silverstone. Media are invited to attend this event. For further details please contact Natalie Waugh - Natalie.waugh@tsb.gov.uk / 07919 397380. For media opportunities around the Launchpad programme, contact: Anne Ligory, Rocket Comms, 07791 057714 / anne@rocketcomms.net.
4.Launchpad competitions support business innovation through a combination of R&D project funding, business support and attracting new investment, delivered through an accessible application process. Launchpad enables businesses to take advantage of being part of a developing cluster to realise their potential for growth. They are limited to SMEs and aimed at young and early-stage companies with significant growth ambition.
5.The Technology Strategy Board is the UK's innovation agency. Its goal is to accelerate economic growth by stimulating and supporting business-led innovation. Sponsored by the Department for Business, Innovation and Skills (BIS), the Technology Strategy Board brings together business, research and the public sector, supporting and accelerating the development of innovative products and services to meet market needs, tackle major societal challenges and help build the future economy. For more information please visit www.innovateuk.org.
Examples of businesses in Motorsport Valley
Flybrid Automotive:
Flybrid Automotive is an engineering company developing low carbon vehicle technology. The company's core product is a high-speed flywheel based Kinetic Energy Recovery System (KERS), which has been developed for both F1 and endurance racing - such as Le Mans 24 Hour. This system is an alternative to electric hybrid systems, and is now being applied in prototype vehicles, road cars and public transport among others.
Ricardo:
UK Motorsport engineering company Ricardo has achieved long-standing success in almost every category of worldwide motorsport. They currently supply all the transmission systems for the top (GT500) class of the Japanese Super GT Championship. The company has also recently developed the "world's greenest supercar engine", as used in the McLaren MP4-12C, and is currently doing a lot of work in developing electrical and mechanical energy recovery systems. Ricardo was also commissioned to create the MIA's recent Motorsport Technology Roadmap.
Global Market Sector Director Steve Sapsford said:
"I see the Motorsport Valley Launchpad as a vital catalyst between solutions generated for the fast-moving world of motorsport and the wider application of those solutions in adjacent sectors such as mainstream automotive engineering, defence and clean energy that will enable the UK to further strengthen its position in this industry."
Williams Hybrid Power (WHP):
WHP's innovative electric flywheel system featured in the Audi R18 e-tron Quattro hybrid that competed in the 2012 World Endurance Championship and the world-famous 24 Hours of Le Mans, where it was the first Hybrid to win. WHP's electric flywheel was chosen by Porsche Motorsport as an alternative to a battery option for the energy storage on their 911 GT3 R Hybrid endurance racing car. Adaptations of the system are now used or being developed for Rail, Buses and trams.
Xtrac:
Xtrac supply gearboxes and in 2013, the entire Indy 500 grid was running on their systems. 32 cars on the grid at this year's Le Mans will also be using Xtrac gearboxes or components, as will the majority of the F1 grid that lines up in the British Grand Prix in Silverstone this week. Xtrac was also the first transmission supplier to provide a running KERS compliant customer transmission in the Le Mans 24 Hour race.
6.The government's economic policy objective is to achieve 'strong, sustainable and balanced growth that is more evenly shared across the country and between industries'. It set four ambitions in the 'Plan for Growth' (PDF 1.7MB), published at Budget 2011:
to create the most competitive tax system in the G20
to make the UK the best place in Europe to start, finance and grow a business
to encourage investment and exports as a route to a more balanced economy
to create a more educated workforce that is the most flexible in Europe.
Work is underway across government to achieve these ambitions, including progress on more than 250 measures as part of the Growth Review. Developing an Industrial Strategy gives new impetus to this work by providing businesses, investors and the public with more clarity about the long-term direction in which the government wants the economy to travel.
Published 24 June 2013