Press release
GREAT Welsh success celebrated
David Jones hosts St David's Day business reception at Foreign and Commonwealth Office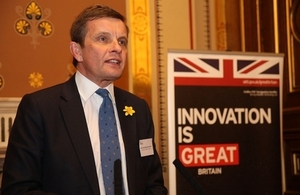 From Wales' fastest growing enterprises to established companies making waves overseas, representatives from business across Wales have joined the Secretary of State for Wales, David Jones, at a reception designed to celebrate growing economic success in Wales.
The event, held at the Foreign and Commonwealth Office in London on 5 March, brough together representatives of Welsh business and society to acknowledge the contribution they make to the Welsh economy.
Secretary of State for Wales, David Jones MP said:
I was delighted to have the opportunity to bring together so many people from Welsh business, arts, tourism and culture yesterday evening. The work that they are doing not only benefits Wales, but contributes significantly to the United Kingdom's rapidly-improving economic picture.

The reception, which was timed to mark the week of St David's Day welcomed officials from multi-national companies like Airbus, to small and medium enterprises (SMEs) that form the backbone of the growing Welsh economy.
The event also helped to underline the level of UK Government support available to businesses in Wales that are looking to enter or to grow in overseas markets. UKTI offers a wide range of trade support programmes, including help with market research and identifying contacts overseas, and businesses in attendance this evening will be encouraged to take advantage of every opportunity available to them to grow and expand into new markets.
David Jones added:
Only last week, I hosted a delegation from Indonesia on visits to businesses in north Wales, and I have recently returned from Oman and Malaysia, where I held meetings with investors to promote the United Kingdom as a destination for business.

The benefits for businesses from international trade are clear to see. We have some excellent businesses in Wales that are trading internationally, proving that Welsh businesses can succeed in the global race.

The NATO Summit, which will be held in Newport later this year, will also provide a huge opportunity to promote Wales to the world as a fantastic place to visit and do business. Over the next 12 months, as the recovery gathers momentum, I hope that the private sector in Wales continues to prosper to create a more balanced economy that is outward looking and makes the most use of all the opportunities and support available to them.
Published 6 March 2014