News story
Great Exhibition of the North
Take part in celebrating your shortlisted city.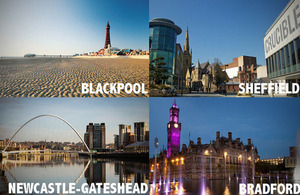 Set to run for at least two months in 2018, the Great Exhibition of the North will showcase the creative, cultural and design sectors across the whole of the North, boosting investment and tourism across the region.
Blackpool, Bradford, Newcastle-Gateshead and Sheffield were all recently shortlisted to host the Exhibition and throughout September we're celebrating each location's exciting offer in the run up to the final decision later in the Autumn.
Find out more about each of the 4 shortlisted locations in our #GreatNorthExpo2018 Shorthand Social.
Social media showcase
Every Friday in September, we'll be shining a spotlight on each of the 4 locations in turn, giving you the chance share what inspires you about each place.
Friday 9 September: we'll be celebrating what makes #Blackpool special
Friday 16 September: we'll be turning our attention to #Bradford's unique offer
Friday 23 September: it will be #NewcastleGateshead's turn to shine
Friday 30 September: we'll be turning our attention to #Sheffield
How to get involved
On the dates above share your messages of support and images on Twitter using #GreatNorthExpo2018 alongside your town or city's name too.
Post pics of your favourite cultural landmark or favourite area in your shortlisted town or city alongside the #GreatNorthExpo2018 hashtag on Instagram.
See what's been shared so far on our dedicated #GreatNorthExpo2018 Pinterest board.
Published 6 September 2016