Press release
Four towns and cities reach shortlist to host Great Exhibition of the North
Blackpool, Bradford, Newcastle-Gateshead and Sheffield have been shortlisted to host the Great Exhibition of the North in 2018, Matt Hancock, Minister of State for Digital and Culture, announced today.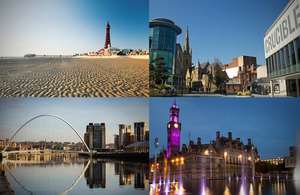 The exhibition, which will run for at least two months, will showcase the great creative, cultural and design sectors across the whole of the North, and boost investment and tourism in the region.
The shortlist will now be assessed by the Great Exhibition board before a final selection is made by Ministers. The chosen venue will be announced in the autumn.
The Government is contributing £5 million towards the exhibition and a further £15 million to a legacy fund to attract further cultural investment in the North.
Nine strong bids were submitted from Halifax, Harrogate, Scunthorpe, St Helens and Whitehaven, as well as the shortlisted venues.
The Department for Culture, Media and Sport will work with the bidders who were not shortlisted to ensure as many people enjoy and benefit from the exhibition as possible.
Matt Hancock, Minister of State for Digital and Culture, said:
The Great Exhibition of the North is a unique opportunity to celebrate the creativity of Northern England and I am thrilled we received so many innovative bids.
British arts and culture are among the finest in the world. I am determined we democratise the arts and celebrate the best in every part of our nation.
What's more, cultural investment can bring enormous benefits for communities - it drives regeneration, promotes tourism and increases life chances.
The shortlisted bids show just what's on offer and highlight that we have brilliant options for hosting the Great Exhibition of the North. Whichever is successful, this exhibition will leave an important legacy to benefit the whole country.
Sir Gary Verity, Chair of the Great Exhibition of the North Board, said:
The quality of all nine submissions was incredibly strong and I'd like to congratulate the four towns and cities who have made it through to the final shortlist.
I and the Great Exhibition Board are very much looking forward to meeting the teams behind the four shortlisted bids to hear their exciting proposals in person. This is an incredible opportunity to really showcase the creativity and culture we have here in the North and I know whoever wins will thoroughly embrace that vision.
Published 29 July 2016