Grants to help boost diversity in senior school leadership
Schools urged to bid for up to £30,000 to support school-led projects.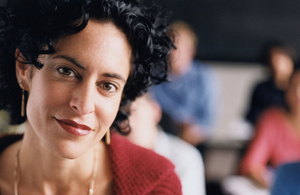 Schools across England are being invited to bid for funding to help boost diversity in their senior leadership teams, Secretary of State of Education and Women and Equalities Minister Nicky Morgan announced today (4 March 2015).
A key part of the government's plan for education is ensuring there is strong leadership in schools to ensure the best outcomes for pupils, and this includes removing the barriers that stop individuals - such as women and those from black and minority ethnic (BME) backgrounds - reaching senior leadership roles.
School workforce data continues to show an under-representation of women and individuals from black and minority ethnic backgrounds in school leadership positions. The latest available figures show that just 2.4% of headteachers are from black and minority ethnic backgrounds, and only 36% of secondary school heads are currently women.
To address this, groups of schools are being invited to bid for grants of up to £30,000 from the government's Leadership, Equality and Diversity Fund to support local, school-led initiatives that will help boost the diversity of their senior leadership teams.
Education Secretary Nicky Morgan said:
Ensuring there are excellent leaders in our schools, to raise the standard of teaching and achieve the best outcomes for their pupils, is a key part of our plan for education.

But good school leadership teams should also reflect the diversity of the teaching profession and recent figures show that there are still significant gaps - particularly for BME individuals and women.

That is why I want to urge more schools to bid for funding of up to £30,000 to support school-led initiatives to help boost diversity in senior leadership teams and unlock untapped potential.
The NCTL's Leadership, Equality and Diversity Fund has been running since 2014, with the aim of supporting under-represented groups, as defined by the Equality Act 2010, to gain senior school leadership positions.
So far, 30 lead schools have been awarded funding on behalf of their collaborative groups of schools for diversity leadership projects - up to 1,000 teachers are expected to benefit.
Great Denham Primary School in Bedford was awarded £25,000 in 2014 to support their Step into Leadership initiative. The initiative is supporting up to 20 BME candidates to access senior leadership positions across their collaborative group, the Bedford Borough Learning Exchange, of over 100 schools in the east of England.
Mike Berrill, Executive Principal of Great Denham Primary School, said:
Bedford is a vibrant multicultural town with high levels of social cohesion, but we face a rapidly changing demographic. We have an almost 100% white school leadership profile in the borough, but 51% of the children in the 0 to 4 age range in the urban area are from BME communities. If we are to maintain and enhance the level of social cohesion in the town, we need to take action.

The grant has enabled us to identify teachers with leadership potential from BME groups. Two sessions into the programme and we already have a closely bonded group, with schools reporting raised levels of engagement and self-confidence from course participants. It is only a start, but it is a very important step that sends out a clear message that we are committed to developing an educational workforce that fully reflects the rich cultural diversity of the town.
Notes to editors
Find out more about the Leadership, Equality and Diversity Fund.
In the 2014 to 2015 academic year the NCTL grant-funded 30 schools (20 secondary and 10 primary) to deliver leadership, equality and diversity projects, helping almost 1,000 teachers. It is anticipated that all participants will progress to next stage promotion within 12 months of completing the programme. See the list of schools receiving funding during the 2014 to 2015 academic year.
NCTL have funded a wide range of local and national programmes to address the under-representation of BME and women leaders in the school workforce. As part of the move towards the school-led system, the NCTL closed their national programmes, investing instead in grant-funding solutions developed by school partnerships to address the specific barriers to leadership positions that teachers face in their local areas, with an expectation that schools lead the design and development of programmes.
DfE enquiries
Central newsdesk - for journalists 020 7783 8300
General enquiries - for members of the public 0370 000 2288
Published 4 March 2015