Grant Shapps signals an end to squatters rights
Housing Minister Grant Shapps has today "locked the door" on squatters' rights for good, by strengthening the Government's advice to homeowners…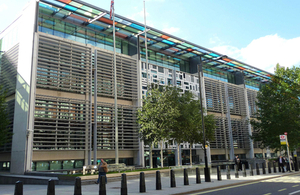 Housing Minister Grant Shapps has today "locked the door" on squatters' rights for good, by strengthening the Government's advice to homeowners looking to protect their properties.
The Government will take steps in the New Year to make squatting a criminal offence - but the Minister argued that now was the time to redress the balance and make sure homeowners were fully aware of their rights.
Published jointly with the Ministry of Justice, today's strengthened guidance offers reassurance to homeowners that squatters are not above the law - and that there are steps they can take if a squatter invades their home.
Owners can get helpful tips online on how to protect their homes from burglars - many of which may also be useful in protecting their properties from squatters.
Owners are also advised to alert neighbours if their property is likely to be empty for a long time so they can report any suspicious activity.
The guidance also clarifies the 'legal warning' squatters often post on the front door. While this warning often states it would be a criminal offence to use or threaten violence to enter the property this is a distortion of the law as it stands - it does not apply to displaced residential occupiers trying to get back into their homes.
Grant Shapps said:
There's never been such a thing as squatters' rights - they are just a misreading of the laws that are actually designed to protect the homeowner. I want to lock the door on squatters and their so-called rights once and for all.

I want homeowners to be fully aware of the laws that are already in place to protect them. That's why today I'm publishing updated and strengthened guidance, so people know the steps they can take to protect their properties from being invaded, and if squatters do move in, the legal steps that can be taken to have them removed.

And because we as a Government are all too aware of the misery and distress that squatters can cause, we will look to take steps in the New Year to make squatting a criminal offence.
Justice minister Crispin Blunt said:
We understand how distressing it must be for people to discover their home has been taken over by squatters.

We are conducting a review of the law to reinforce the position of law-abiding victims of squatting in both commercial and private property and expect to publish our further proposals in due course.
Notes to editors
Strengthened guidance is published today and can be found at: www.communities.gov.uk/publications/housing/advicesquatters.

Tips for homeowners on protecting their homes from burglars - many of which could apply to protecting homes from squatters - can be found here: www.direct.gov.uk/en/CrimeJusticeAndTheLaw/Typesofcrime/DG_182053 (external link).
Twitter
Keep up to date with the Department by following us on Twitter (external link).
Media enquiries
Visit our newsroom contacts page for media enquiry contact details.
Published 21 March 2011