Grant Shapps responds to judge's ruling on squatters rights
Housing Minister Grant Shapps responds to judge's ruling ordering a London council to publish a list of empty homes in their area. Grant Shapps…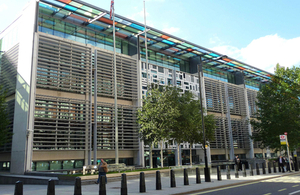 Housing Minister Grant Shapps responds to judge's ruling ordering a London council to publish a list of empty homes in their area.
Grant Shapps said:
This is a bizarre decision that flies in the face of common sense. Rather than trying to prevent the anti-social and unfair practice of squatting, this judge is instead insisting that Camden Council publish a 'squatter's road map' - which in other areas has led to the numbers of squats doubling.

We've been clear that we want to bring more empty homes back into use, which is why I'm making £100million available to help council-led efforts to do so and rewarding those that house people in former empty homes through the New Homes Bonus, by matching the council tax raised on those properties for six years.

But I also want to shut the door on so-called 'squatter's rights' once and for all, and end the misery, expense and hassle that far too many people have had to endure for too long, which is why we are consulting on making squatting a criminal offence.
Published 6 September 2011