Grant Shapps offers 'Build Now, Pay Later' deal to developers
Housing Minister Grant Shapps has today offered developers a Build Now, Pay Later deal to get work started on thousands of new homes without…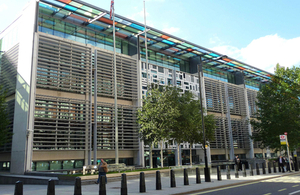 Housing Minister Grant Shapps has today offered developers a Build Now, Pay Later deal to get work started on thousands of new homes without facing the expense of buying the land upfront.
He published details of the first sites to be made available under Build Now, Pay Later, an innovative scheme designed to give a shot in the arm to housebuilders that have struggled to get their developments up and running.
Under Build Now, Pay Later, housebuilders pay for the land after they have started work on the new homes, offering a lifeline to those struggling with cash flow problems and enabling them to start building straight away.
Over the past decade, housebuilding slumped to its lowest levels for any peacetime year since 1924. Today, the Minister insisted that making this land available could offer a huge boost to the numbers of homes being built and jobs supported.
So Mr Shapps has announced moves by the first Government agency to bring some of its surplus land forward under this programme.
Today, the Homes and Communities Agency is leading the way, offering the first six sites for development, many of which will be possible under Build Now, Pay Later. These sites could lead to as many as 3,000 new homes being built and as many as 18,000 jobs in construction and related industries being supported.
Up to 40 per cent of land suitable for housing development - as much as 7,500 hectares - is "sitting idle" in public sector land banks. It is estimated that making this land available owned by central Government alone could help developers build more than 60,000 new homes over 10 years.
So to ensure these sites are the first of many to be made available, Government departments from across Whitehall will publish their own plans to release land - and will be held to account for the numbers of homes and jobs created as a result.
Grant Shapps said:
Draconian top-down targets brought housebuilding to its knees, reaching the lowest level for any peacetime year since 1924. Radical reform is needed to give a boost to developers and kickstart building so we can get the homes this country needs.

Up to 40 per cent of the land ready for development in this country is simply sitting idle in the hands of the public sector. So today I'm giving the green light to the Homes and Communities Agency to lead the way by making six new sites available for development.

These will be the first of many sites as all Government departments will now be asked to make land available for housebuilding and, crucially, will be held accountable for the homes built and jobs supported through this. And many of these sites will be available under Build Now, Pay Later, giving builders access to land they only pay for once the homes are built and giving a boost to the level of housebuilding in this country.
Pat Ritchie, chief executive at the Homes and Communities Agency, said:
We are leading the way by making more land available for development through a range of options that will help developers get on site more quickly and help communities access the homes, amenities and public space needed in their local area.
Speaking in advance of today's Home Builders Federation Policy conference, executive chairman Stewart Baseley said:
The Government simply must address the acute housing supply crisis. The public sector owns around 40 per cent of potential residential land, and so moves to release surplus land for development are a positive step and we need to see the process quickly accelerated.
Notes to editors
The six sites being released by the Homes and Communities Agency are:
Hemel Hempsted
Planning consent is in place for 372 homes, known as Cherry Tree Lane, as part of the Spencer's Park development site - a site partly owned by Crown Estates. This phase of HCA-owned land will be brought forward for disposal and development by the Agency. The disposal will test Build Now, Pay Later options including payment for land on sale of homes or staged payments. This approach could trail the way for other HCA-owned land in the area.
Park Prewett, Basingstoke
David Wilson Homes has been announced as the preferred developer to work with the Homes and Communities Agency, Basingstoke and Dearne Borough Council and the local community to complete the final tranche on the redevelopment of a former hospital site, with up to 585 homes. The site will be delivered through the Build Now, Pay Later scheme.
Blackwall Reach, Tower Hamlets
Owned by Tower Hamlets Council, the development has been underway since 2007 with plans to demolish the 1960s Robin Hood Gardens housing estate currently on the site. The new plans include creating over 1,600 new homes, nearly 700 of which will be affordable. Construction work will involve a partnership between the Council, the Homes and Communities Agency and the developers Swan/Countryside, with the land sold under the new Build Now, Pay Later scheme.
Ransome Road, Northampton
The Homes and Communities Agency has brought together land owned by organisations including Northampton Borough Council and Network Rail to create a 23-hectare brownfield site close to the town centre, which is suitable for 450 homes, with plans for a further 800 homes once a new road link has been built. Working with organisations including the local councils and development corporation and the Environment Agency, the Homes and Communities Agency has made a number of improvements to the site to enable development, including improved road junctions and flood defences.
Cotgrave, Rushcliffe, Nottinghamshire
Plans include the development of a 4.6-hectare former colliery site being made available under Build Now Pay Later, with plans for 470 new homes and regeneration of the town centre. The land is owned by organisations including Rushcliffe Borough Council and the local Police Authority. The land will be available through Build Now, Pay Later.
Croppings, Lightmoor, Telford
Developers Keepmoat have been announced as the preferred developer of a site at Lightmoor Village, to build 100 new homes under Build Now, Pay Later. This is part of a wider development of the village - 230 new homes and a new primary school have already been built, as well as a new village centre. A further 370 new homes are expected over the next three years.
Twitter
Keep up to date with the Department by following us on Twitter (external link).
Media enquiries
Visit our newsroom contacts page for media enquiry contact details.
Published 30 March 2011