Grant Shapps launches £420 million fund to get Britain building again in 2012
Thousands of desperately needed homes will be built across the country thanks to a £420 million fund to unlock stalled sites and get Britain…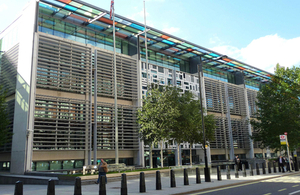 Thousands of desperately needed homes will be built across the country thanks to a £420 million fund to unlock stalled sites and get Britain building again in 2012, Housing Minister Grant Shapps said today.
The Get Britain Building Fund will help get builders back on housing sites with planning permission that have been shut down because of difficulties in accessing development finance. This move will help towards getting the homes the country needs built and create hundreds of thousands of jobs. 
Over the next two years, this £420 million fund is expected to unlock up to 16,000 homes on sites that are currently stalled, and help create up to 30,000 jobs in construction and related industries.
Developers will be able to apply for a share of the funding, whether as a loan at commercial rates or as an equity investment - where the Government invests alongside the developer.
But Mr Shapps made clear that a top priority will be to deliver value for money and to make every taxpayer's pound works harder - as well as ensuring that projects that are backed by the fund fit in with local priorities.
So today Mr Shapps launched a competition to ensure these Government funds are focused on those projects that will unlock the most homes and jobs for the money, and offer the greatest prospects for recovering the investment.
The amount individual developers receive from the fund will be no more than 50 per cent of a project's total costs and all projects must restart on site by December next year. 
All homes funded through Get Britain Building must be completed by December 2014 - so developers applying for the funding must also have sites with outline planning permission, and the support of the local council.
But Mr Shapps also highlighted that while all developers will be able to apply for funding, he is working hard to make it accessible to small and medium-sized businesses, as they struggle most with accessing development finance. Developments put forward for funding can be as small as 25 new homes and the process has been streamlined to ensure that potential applicants are not put-off by onerous information requirements.
The Get Britain Building fund is one of a number of measures contained in the Housing Strategy, aimed at tackling the housing shortage, boosting the economy, creating jobs and giving people an opportunity to get on the housing ladder.
Grant Shapps said:
Across the country housing projects, backed by local people, have been stalled due to the difficult economic situation, while these local communities have been left with an ongoing and pressing need for more homes.

The £420 million Getting Britain Building Fund will change this, unlocking these developments to get workers back on site and construction back on track to build up to 16,000 homes that would otherwise never get finished. And to ensure businesses of all sizes can apply, I've ensured that applying for Get Britain Building has been made as straightfoward as possible to ensure developers are not asked to wade through unnecessary red tape and bureaucracy.

This is not a simple handout - the taxpayer will get a return on their investment, with the homes the country needs built and 30,000 jobs created. And because developers will be expected to pay back the money once their projects are completed, we will be able to continue unlocking sites for even more homes across the country.
Homes and Communities Agency Chief Executive, Pat Ritchie, said:
This is an exciting new programme, which will boost the house building industry, local economies and the supply of new homes for the areas that need them. I'm sure this opportunity will be of interest to all developers, but we have made the process is as simple as possible to make it easy for smaller developers to bid.

I am looking forward to receiving the expressions of interest from the industry and the Homes and Communities Agency will be taking a robust commercial approach working with local authorities to invest in the right schemes that deliver the greatest benefits for local communities and the industry.
Notes to editors
Details of how to apply for a share of the £420million Get Britain Building Fund can be found at: www.homesandcommunities.co.uk/get-britain-building
Twitter
Keep up to date with the Department by following us on Twitter (external link).
Media enquiries
Visit our newsroom contacts page for media enquiry contact details.
Published 22 December 2011