Press release
Government's Body Confidence Campaign celebrates success and welcomes new action
Minister says: "no-one's energy, ambition and opportunity should be wasted by low body image"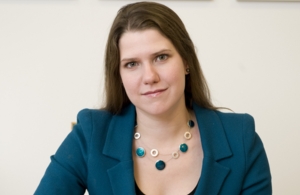 A new report highlighting the successes of the Government's body confidence campaign was published today by Women and Equalities Minister Jo Swinson.
The campaign was launched in 2010 to raise awareness of the issue of low body image, work with industry to create positive change and help people to challenge the images they see which can impact on their self-esteem. The campaign has seen considerable success to date including:
launching a free teaching pack for primary schools and parents, in conjunction with Media Smart, to help children understand how images in the media and advertising are altered and do not reflect real life or real bodies – this has been downloaded 30,000 times to date.
working with All Walks Beyond the Catwalk to launch the Centre of Diversity, which teaches fashion graduates to design clothes for a diverse range of body shapes, and is helping to inspire the next generation of graduates and designers to consider and celebrate a broader range of body and beauty ideals; and
helping further the body of research into the effect of advertising on young women and exploring practical solutions to these issues by working with Credos, the research arm of the advertising industry, who produced the Pretty as a Picture report examining young women's attitudes to media and advertising images.
Jo Swinson hosted an event attended by a range of experts to mark the publication of the progress report, and to discuss the next phase of the campaign. She said of the progress made:
According to recent statistics almost one quarter of children aged 10-15 are unhappy about their appearance and a massive 72 per cent of girls feel strongly that too much attention is paid to the way female celebrities look. These are absolutely shocking figures.
There is nothing wrong with taking pride in your appearance and wanting to look good. But it's become normal for people to worry about what they look like that it is easy to ignore the real and damaging impact it can have.
I am incredibly proud to be publishing this report which shows just how far we have come in setting this issue firmly on the agenda. I've been lucky enough to be able to work with so many key players in the retail, advertising, fashion and fitness industries.
Panel member Caryn Franklin MBE, co-founder All Walks Beyond the Catwalk, said:
As a member of the fashion industry endeavouring to create a shift in thinking to incorporate more diverse body and beauty ideals, it has been very helpful to work with and alongside Jo Swinson's Body Confidence Campaign. The interest and support of a committed politician, who is knowledgeable and proactive in the culture of health, wellbeing and body image, has been very welcomed.
Over the last two and a half years the Government has worked with the beauty, fashion and retail industry and an expert advisory group to develop non-legislative ways to tackle the causes of negative body image. Commenting on the next phase of the campaign, Jo Swinson added:
We've been holding regular discussions across Government and with a range of different groups and what is clear to me is we need to harness momentum and build on the progress made.
I recently met with fathers' groups to discuss the impact dads can have on their daughters' body image and we are exploring ways to raise the debate and engage dads.
The next phase of the campaign will include:
developing girls' aspirations and improving their resilience to the images they are subjected to in the media;
talking to key high street retailers to get them to champion the issue of body confidence;
launching a new front in the campaign by targeting men, particularly fathers, as supporters of girls' body image; and
continuing to work on expanding the evidence base that will inform future Government work in this area.
A review of evidence into body image has also been published today, which identifies what is known and proven about the causes, consequences and potential interventions associated with body image. This review provides an understanding of what research evidence is available on body image, identifies gaps in knowledge and will help to inform future work on tackling this important issue.
Notes to Editors
1.See the government's Body Confidence campaign progress report 2013 2.See the government's Body Confidence Rapid Evidence Review 3.Download a teaching pack for primary schools and accompanying parent pack 4.[Further information on The Government's Body Confidence Campaign[(https://www.gov.uk/government/policies/creating-a-fairer-and-more-equal-society/supporting-pages/body-confidence-campaign) 5.Further information on All Walks Beyond the Catwalk
Press Enquiries: 020 7211 2210 OR 020 7211 6298 Public Enquiries: 020 7211 6000 Out of hours telephone pager no: 07699 751153
Published 28 May 2013