Press release
Government welcomes customer service best practice code
Codes of practice which protect consumers and encourage businesses have been welcomed by Consumer Minister Jo Swinson.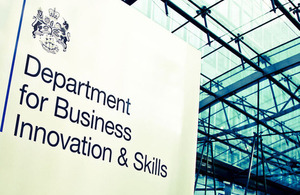 UK-wide codes of practice which protect consumers from poor trading practices and encourage businesses to showcase exemplary customer service have been welcomed today by Consumer Minister Jo Swinson.
Speaking at the annual Trading Standards Institute conference, Jo Swinson praised the TSI for working with business and consumers to create a new Consumer Codes Approval Scheme. Under the voluntary and self-funded scheme, trade bodies can apply for their industry specific code to be approved by the Trading Standards Institute which will strengthen industry self-regulation.
Consumer Minister Jo Swinson said:
Treating consumers with good customer service and a willingness to go the extra mile are the hallmarks of a good business. The TSI approved logo will become a badge of distinction helping businesses enhance their reputation and attracting consumers to honest businesses who are raising their game and helping rebuild our economy. That is why I am delighted to endorse the new UK-wide consumer codes of conduct.
The new codes add to the host of reforms we have been introducing over the past year to empower consumers and coordinate enforcement against rogue traders, all without imposing unnecessary burdens on businesses.
The code applies to businesses ranging from energy to healthcare sectors. Businesses that subscribe to an approved trade body's code will be required to provide consumer protection, including offering an ombudsman or arbitration to resolve disputes. Those that fail to comply once signed up could face fines or imprisonment.
The Minister encouraged all sectors of industry to join more than 15,000 current subscribers and use the commercial opportunities available from advertising their good customer practice through the TSI Approved Code Logo.
Jo Swinson also praised the work of the National Trading Standards Board which successfully helped uncover fraud worth more than £139m in its first year of operation. The new UK-wide codes and the success of the NTSB adds to the host of consumer reforms introduced by the government over the past year to support growth by helping markets work better for consumers, improving consumer protection and giving greater clarity about where consumers need to turn for help and advice.
Notes to editors
Consumer Minister Jo Swinson will be speaking at the TSI conference in Brighton at 4.15pm on Tuesday 18th June 2013.

For further details on the speech please contact BIS Press Office on 020 7215 5984

Consumers will be able to look for the TSI Approved Code logo, or search a dedicated database at www.tradingstandards.gov.uk for a member of an approved code in their area.

Benefits to business from approved code:

Code subscribers can display the TSI approved code logo. This will help promote the business as one that consumers can trust
Business can demonstrate a higher level of customer service and added customer protection, such as a customer complaints procedure and clear pre-contractual information. This will help to attract and retain customers.
Being part of an approved code can help drive up customer standards within certain sectors and so raise consumer trust.

Areas where you as a consumer will benefit from higher protection include:

clear pre-contractual information
deposit and pre-payment protection
additional consumer protection for business conducted in the consumers own home
clear complaints procedure
Alternative Dispute Resolution (ADR)

As part of the consumer landscape reforms, the TSI have taken on responsibility for and refreshed the consumer code scheme formerly delivered by the Office of Fair Trading.

Nine of the OFT's existing code sponsors transitioned to the new TSI scheme on 1 April. Inaugural trade bodies sponsoring the new code include: British Association of Removers, British Healthcare Trades Association, Debt Managers Standards Association, Institute of Professional Will Writers, Motor Codes Ltd, Renewable Energy Assurance Ltd, Robert Bosch Ltd, The Carpet Foundation and Vehicle Builders Repairers Association Ltd.

The government's economic policy objective is to achieve 'strong, sustainable and balanced growth that is more evenly shared across the country and between industries.' It set four ambitions in the 'Plan for Growth' (PDF 1.7MB), published at Budget 2011:

To create the most competitive tax system in the G20
To make the UK the best place in Europe to start, finance and grow a business
To encourage investment and exports as a route to a more balanced economy
To create a more educated workforce that is the most flexible in Europe.
Work is underway across government to achieve these ambitions, including progress on more than 250 measures as part of the Growth Review. Developing an Industrial Strategy gives new impetus to this work by providing businesses, investors and the public with more clarity about the long-term direction in which the government wants the economy to travel.
Published 18 June 2013