News story
Government unveils major boost to social investment sector
The government announces a multi-million pound package of finance to boost social investment market, and its strategy to grow the sector.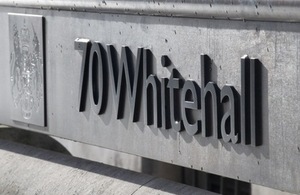 Strategy to grow social investment market
In its 2014 progress report, the Cabinet Office reflects on the huge strides made in the market over the past 3 years, including
the introduction of the world's first tax relief for social investment
the creation of Big Society Capital (the £600 million social investment bank)
significant growth in the number of social enterprises, which now employ more than 2 million people in the UK
The UK is now home to the world's most advanced social investment market, growing over 20% a year, and is seen as the global hub for social investment.
The progress report sets out the most important focus for the next year: making it easier for people to become social investors, as well as helping organisations to access this type of funding.
The government also wants to encourage the growth of innovative models to tackle social problems such as homelessness, loneliness and disadvantaged young people.
One way this can be tackled is through social impact bonds (SIBs). SIBs enable social investors to provide finance to charities or social enterprises, delivering public services on a payment by results basis. They make a return on their investment, based on outcome payments from government if the intervention is successful.
15 SIBs already exist here, making the UK the world leader in this type of fund, and the government recently announced over £30 million funding for social impact bonds supporting disadvantaged young people.
New social impact bonds
Today 2 new SIBs have been announced in Worcestershire and Birmingham.
Reducing isolation
The SIB in Worcestershire will target 20 to 30% of the lonely population in the area. It aims to reduce loneliness among over 50-year-olds to reduce dependency on health and social care services. This is the first ever SIB to address this particular issue and is being commissioned by Worcestershire County Council and local Clinical Commissioning Groups.
Supporting children in care
The second SIB in Birmingham will provide bespoke support to vulnerable young people in the area. It will focus on youths aged 11 to 15-years-old who are taken into residential care, or who are at risk of entering care.
£60 million investment to help ventures access social finance
To make sure that more social ventures can benefit from social finance, an investment of £60 million for social investment "readiness" over the next decade has also been announced today. The investment will come from the loan book of a fund called Future Builders.
This investment is specifically ring-fenced to support social ventures who have high potential but struggle to access finance, and who could benefit from business capacity building support in preparing for bidding for social investment. It will be based on the Cabinet Office's pilot £10 million Investment and Contract Readiness Fund. Social ventures who raised finance through this fund received £38 for every £1 of government grant.
Minister for Civil Society Nick Hurd said:
Engagement in social investment around the world has reached new levels, and the UK is leading the way in this global movement. Today's announcements show our commitment to building a market that is accessible to everyone and our report reflects on the huge progress we have made into turning our vision into reality.
The announcements come on the same day as the UK hosts the Social Impact Investment Taskforce, with 200 leading figures from around the world. Led by Sir Ronald Cohen, the taskforce brings together government officials and senior figures from finance, business and philanthropy from across the G7 countries. It will publish a report of recommendations to grow the global market later this year.
Notes to editors
Social impact bonds
Social impact bonds are payment-by-results programmes that will pay for positive outcomes achieved. Through a SIB, social investors will cover the upfront costs for social enterprises and charities to deliver programmes. Investors only receive a return on their investment if the programme has achieved the agreed outcomes.
The UK is leading the world in catalysing the growth of the social investment market and developing social impact bonds. There are 15 SIBs in operation in the UK (excluding the 2 announced today) with many more in development.
Future Builders Fund
The Future Builders Fund provided loan financing, often combined with grants and professional support, to VCSE organisations in England to help them bid for, win and carry out public service contracts. It is now closed to new applicants.
Future Builders offered investments of more than £150 million to over 370 third sector organisations and showed that there is an appetite for loan finance in the third sector. In 2010, the fund closed to new applicants.
The Social Investment Business Group (SIB Group) now manages the loan book on behalf of government. Big Society Capital is now playing a key role in lending to VCSE organisations.
Published 19 June 2014