Press release
Government takes action to cut red tape for coastal projects and investments
Port development companies, marina builders, and smaller companies will benefit from less burdensome enforcement of regulation.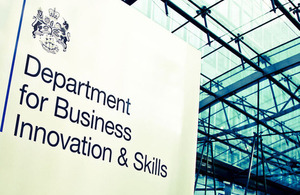 Port development companies, marina builders, and smaller companies will benefit from less burdensome enforcement of regulation following a government review of red tape.
Responding to industry concerns that lack of co-ordination between regulators imposes unnecessary costs and uncertainty on firms, Business Minister Michael Fallon today announced the development of a Marine Coastal Concordat to ensure a single agreed regulator is identified to oversee the co-ordination of licensing and permitting for new coastal projects.
Led by Defra and the Department for Transport, the Concordat will establish a formal operating agreement between regulators the Marine Management Organisation, Natural England, the Environment Agency, and will involve, where appropriate, the Local Government Association.
It will make life easier for businesses by creating an easily identifiable, single point of entry to the regulatory system and improving and streamlining existing processes. Currently confusion can arise where land-based and marine planning regimes overlap, and this can lead to cost and delay for business. The government will seek to reach rapid agreement with the Local Government Association on the development of the Concordat.
Business Minister Michael Fallon said:
Business told us about the frustrations - and costs - caused by the failure of regulators to agree who leads coastal projects. We can't afford this vital component of our economy, with its great potential to create jobs and growth in communities that are hungry for opportunity, to be held back by red tape.
A single point of contact, alongside the reforms driven through by the regulators themselves, will clarify the system, freeing up enterprise.
Responding to other issues raised by businesses, further reforms will improve the way the regulatory system is enforced by reducing burdens in low-risk areas. This will particularly benefit smaller companies that feel a disproportionate burden of regulation.
The Marine Management Organisation (MMO) will:
reduce marine licensing administration costs by fast tracking licensing processes, reducing the time taken to determine a licence, and introducing longer lasting licences for key activities such as maintenance dredging
produce new guidance to clarify whether certain activities actually require a licence under the Marine and Coastal Access Act 2009
carry out more training to help staff better balance business needs and environmental concerns, helping promote sustainable development
Commenting on the announcement, Chief Executive of EEF, the Manufacturers' Organisation, Terry Scuoler said:
We very much welcome this announcement. Cutting through the red tape that is choking companies trying to invest and create jobs along our coasts is an important step towards building the more dynamic business environment we urgently need.
I now urge the government in the next phase of their work on regulation to identify and reform other situations, such as on-shore planning where industrial growth and developments are frustrated and slowed down by the need to deal with a multiplicity of uncoordinated regulators and agencies.
Andy Smith, Vice Chairman of the Local Government Association's Coastal Group said:
It is excellent news to hear that it is proposed to develop a Concordat on Marine and Coastal Development, designed to simplify and speed up the currently complex and time-consuming business of applying for developments on the coast.
There are now so many bodies from whom overlapping consents are needed that this can be a major cause of delay and costs. The potential wins from this are really important, and we greatly welcome the opportunity, and the challenge, of assisting in this great idea.
The Focus on Enforcement review conducted during the Autumn of 2012 examined the industry's day-to-day experience of regulation at the coast and gathered views on how current enforcement practices could be reformed to remove unnecessary red tape.
The review took evidence through discussions with the sector. Input was received from a range of trade bodies, individual businesses and from the regulators themselves. The review found that relationships between regulators and developers are generally positive and professional and that there are areas of particularly good practice. However, there was room for improvement.
The full review findings are at: www.discuss.bis.gov.uk/focusonenforcement/
Notes to Editors
Focus on Enforcement reviews examine how regulation is delivered – whether through inspections, advice, and enforcement – not the regulations themselves. The programme's web-site also gives individuals and businesses the opportunity to provide evidence on areas 'in focus' such as, currently. reviews of childcare and care homes. Businesses can also contribute to a wider review of appeals mechanisms operated by national and local regulators.

A separate initiative – Red Tape Challenge – invites the public, business and the voluntary and community sector to give their views, comments and ideas on what regulations should stay, be improved, or be scrapped altogether. The government announced on 10 September 2012 that at least 3,000 of the regulations examined will be scrapped or reduced. A successor programme to Red Tape Challenge will start in spring 2013. Visit: www.redtapechallenge.cabinetoffice.gov.uk

The Cabinet Office's Red Tape Challenge (RTC) review of marine-related legislation
The Water and Marine theme was open for comment on the RTC website between 16 February 2012 and 12 April 2012. The package of measures for the Water element of the theme was published in the 2012 Autumn Statement. A full list of the proposals for the Marine element of the theme will be published on the RTC and Defra websites shortly.
4.Summary of the Focus on Enforcement review findings and government and regulators' responses:
The balance between the precautionary stance of regulators / economic growth: Business perceives an imbalance in weight attached by regulators to environmental concerns over commercial / economic priorities.
Response: The Marine Management Organisation (MMO) will carry out staff training to reinforce awareness of the existing presumption in favour of sustainable development. The MMO will also provide clearer guidance on what circumstances require Environmental Impact Assessments.
Natural England (NE) is already undertaking significant work in this area (in response to the findings of the Habitats Review) and will report to the Reducing Regulation Committee (RRC) on its progress (including on work to embed organisational culture change) in September.
Lead regulator - identifying a lead regulator for each project (local vs. national, or between national regulators) can take much too long and cause unacceptable delays to applicants.
Response: Defra and Dft will lead on the rapid agreement (by September 2013) and conclusion of a Marine/Coastal Development Concordat. The Concordat will cover MMO, EA, NE, DfT and the LGA (to the extent possible) and ensure provision of a single point of entry to the regulatory system for applicants and a process for rapid agreement of a lead regulator.
Over-enforcement of low risk activities – industry raised concerns that licences should not be required for low risk activities. Concerns were also raised regarding the proportionality of conditions placed upon licences for low risk activities and the process was considered to be over-complex for smaller operations.
Response: MMO will introduce a fast-track system for low-risk activities still requiring marine licensing and will remove the requirement for public notices for certain low-risk activities.
Defra will prepare legislation extending the range of exemptions to marine licensing.
MMO will produce licensing guidance clarifying the activities covered by the Marine & Costal Access Act 2009.
In September 2013, MMO will report to RRC and provide an update and assessment of the impact of the new exemptions and fast track process.
Timescales - the pre-application phase for marine licensing is often significantly slower than pre-application phases for planning undertaken by local authorities, especially for larger cases.
Response: Defra is undertaking work to address this through improvements to cross-regulator efficiency. Progress on this will be assessed by the end of 2013.
Small businesses' experience of the system - SMEs reported difficulties in engaging with the marine licensing system. They found the system unduly complex for small projects adding to the time taken, the cost and the commercial risk. Because of this complexity, many applicants have to take professional advice, which can be disproportionately expensive.
Response: MMO will reduce the cost of marine licensing administration through a range of measures;
Defra and MMO will consult on a revision to the fees and charges Order to improve alignment to actual costs.
Consistency - business reported inconsistencies between and within regulators, over time and from place to place.
Response: An existing initiative, the 'Single voice' initiative, is already working to reduce inconsistencies between and within regulators.
By the end of 2013 MMO will have undertaken work with other regulators and local authorities to increase mutual awareness of marine licensing requirements and improve alignment of regulatory processes;
By September 2013, Defra will make proposals for consolidation of marine licensing legislation.
Consultation processes – consultation requirements are sometimes unnecessarily duplicated, adding time, cost and risk to a development project.
Response: Defra is undertaking work to improve efficiency of regulator consultation processes. Progress will be reviewed by the end of 2013.
5.The government's economic policy objective is to achieve 'strong, sustainable and balanced growth that is more evenly shared across the country and between industries'. It set four ambitions in the 'Plan for Growth' (PDF 1.7MB), published at Budget 2011:
to create the most competitive tax system in the G20
to make the UK the best place in Europe to start, finance and grow a business
to encourage investment and exports as a route to a more balanced economy
to create a more educated workforce that is the most flexible in Europe
Work is underway across government to achieve these ambitions, including progress on more than 250 measures as part of the Growth Review. Developing an Industrial Strategy gives new impetus to this work by providing businesses, investors and the public with more clarity about the long-term direction in which the government wants the economy to travel.
Published 26 February 2013