Press release
Government supports South East local authorities to back staff mutuals
Representatives from local authorities gathered in John Lewis on Oxford Street to discuss opportunities for forming public service mutuals.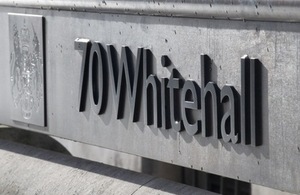 Already, more than 60 public service mutuals are delivering over a billion pounds worth of vital health, social care and local authority services across the country. These pioneers show that giving frontline staff ownership and power to make decisions can lead to better, more efficient public services.
The event was hosted by the Cabinet Office in partnership with the Employee Ownership Association and South East Councils. It was targeted at Local Authority commissioners, the professionals who decide how services are delivered and award contracts for outsourced services. Attendees had the chance to hear from successful case studies and attend workshops with national policy experts - inspiring a future generation of exciting mutuals.
Minister for the Cabinet Office, Francis Maude, said:
It's easy to make the case for giving frontline staff the power to do their jobs in the way they know best. The evidence is clear that mutuals deliver many benefits. But we want to make sure that these dedicated public servants have all the support they need. That's why we organised today's event to help local commissioners understand how best to support ambitious frontline staff, and to make sure the opportunity to grow the number of mutuals in the South East is not missed.
Speakers at the event included Iain Hasdell, Chief Executive Officer, Employee Ownership Association, Derek Irvine, Director of Commercial Services, West Sussex County Council and Ros Parker, Chief Executive Officer, Aspire Sussex Ltd. Aspire Sussex Ltd successfully span out of West Sussex County Council, harnessing the strength of its staff to offer the same high quality services as a staff run social enterprise, and is one of the mutual case studies that was highlighted at today's event. It meets the needs of 14,000 students across the county and is the only adult learning provider that delivers qualification courses, family learning, skills for life and community learning across the whole of West Sussex.
West Sussex County Council Director of Commercial Services Derek Irvine said:
West Sussex County Council was supportive and encouraging of the unit's ambition to operate and trade at arm's length from the County Council and believed they had the capability to make a real go of it and broaden their offering to the residents of West Sussex and possibly beyond.

These are exciting times for Aspire Sussex Limited and I look forward to watching the organisation develop over the coming years and wish them every success for the future.
Aspire Sussex Ltd has recently received a £70,000 boost from the Cabinet Office Mutual Support Programme (MSP). This money is helping them to receive specialist business support from Mouchel Management Consulting Ltd, in partnership with SCA Group and Turning Point.
Patrick Burns, John Niland and Craig Dearden-Phillips, from the new Mutuals Ambassadors team, which is dedicated to helping fledgling mutuals on the ground, also attended.
Ros Parker, Chief Executive, Aspire Sussex Ltd said:
Aspire Sussex is the first adult education service to spin out as a mutual. Even in its early stages staff are seeing the benefits through improving the way services are delivered and having more say in the services they run.

We are looking forward to new opportunities, greater freedoms and the ability to grow local adult education that makes a difference to people and communities.
There is a wealth of support available to anyone who wants to find out more or develop a mutual through the Mutual Information Service website or by accessing expert advice through the Mutual Information Service hotline.
Notes to editors
The government is supporting public servants who want to form mutuals with a £10 million Mutual Support Programme, Mutual Information Service website and dedicated hotline on 0845 5390543.

The Mutual Support Programme is helping fledgling mutuals to develop by providing the professional expertise and advice that they are unable to access. The money has been used to buy suppliers to deliver the support these upcoming mutuals need, allowing the government to negotiate the best deals, and build a valuable knowledge sharing database. The programme will also allow government to build a strong evidence base of what works and what doesn't for other upcoming mutuals that are coming through the system.

Mutuals Ambassadors have been appointed to support entrepreneurial frontline staff as they form mutuals and to trouble shoot making sure these fledgling businesses can compete for business on a level playing field.

The Employee Ownership Association acts as the voice of co-owned business in the UK - a network of over a hundred companies with significant employee ownership and a growing sector of the economy worth over £30 billion annually. The Association's role is to serve its member companies and promote the growth of employee ownership in the UK. Members include co-owned Gripple, Childbase, Scott Bader, Clearcut Sound, Skye Instruments, Clansman Dynamics, John Lewis, Unipart and Arup, plus a host of other successful enterprises. For further information visit www.employeeownership.co.uk or contact The Employee Ownership Association press office: 020 7922 7762 / 07944 381743 or sam.dowling@employeeownership.co.uk
Published 30 November 2012