Government response to judicial review hearings on Building Schools for the Future
Response to the judicial review hearings on ending the BSF programme brought by 6 local authorities against the DfE.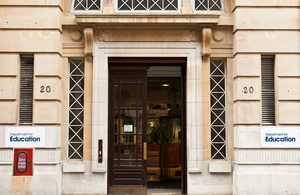 On Monday 24 January 2011, 6 local authorities in England (Luton, Nottingham, Waltham Forest, Kent, Newham and Sandwell) begin their judicial review action in relation to the ending of Building Schools for the Future.
A Department for Education spokesperson said:
The Secretary of State terminated the Building Schools for the Future programme because it was unnecessarily complex, poor value for money and unaffordable in the economic climate. In none of the cases are these local authorities challenging the wider decision to end BSF.

We are robustly defending the claims made by the local authorities and believe we have a strong case. The coalition government has been clear that the end of BSF is not the end of school rebuilding. That's why we have launched a comprehensive review of all capital spending so that school building can be done more efficiently and quickly.
Further information
See 5 July 2010 announcement on the end of Building Schools for the Future programme.
Secretary of State Michael Gove's oral statement to Parliament on 5 July 2010, which sets out the reasoning for ending the BSF programme.
DfE enquiries
Central newsdesk - for journalists 020 7783 8300
General enquiries - for members of the public 0370 000 2288
Published 24 January 2011