Government publishes list of schools interested in becoming academies
Details of Lord Hill's reaction to the number of schools wanting to become academies.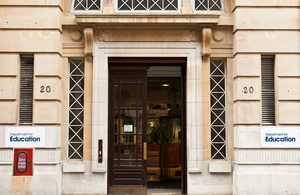 The Department for Education has today published a list of the schools that have registered an interest in becoming academies. Lord Hill, Parliamentary Under-Secretary of State for Schools said:
I am delighted that so many schools have expressed an interest, and that over 900 outstanding schools are interested in becoming academies. Every school expressing an interest will have a named contact in the Department, who can answer their questions and guide them through the process. At the same time, we expect schools to keep their governors, staff and parents updated on progress. This is a genuinely permissive policy, there is no pressure for any school to convert by September, and they can do so at any time, when they feel they are ready. We want schools to decide what's best for them, not politicians or bureaucrats.
The full lists of both outstanding and non-outstanding schools expressing an interest are available on the academies section of the website.
DfE enquiries
Central newsdesk - for journalists 020 7783 8300
General enquiries - for members of the public 0370 000 2288
Published 25 June 2010