Government publishes consultation response on the future of child maintenance
Today the Government is responding to the consultation on the future of child maintenance.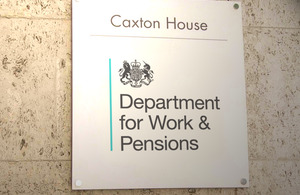 Today the Government is responding to the consultation on the future of child maintenance and is setting out radical changes to the system to make separated parents take full responsibility for their children's ongoing financial support.
The current Child Support Agency (CSA) scheme is set to close to new customers from next year. A new and streamlined child maintenance service will be launched in the biggest overhaul of the system since it was first set up in 1993.
**Work and Pensions Minister, Maria Miller said: **
Too often the current child maintenance system pushes families down the statutory route by default and takes responsibility away from parents, causing conflict and hostility.

The Government is clear about the importance of strong family relationships in a child's life, and that is no different post-separation. We therefore want to support parents to work together, where possible, to make their own family-based arrangements which have the best interests of their children at their heart.
Under the new system:
The Government wants to support parents to make their own family-based arrangements which are in the best interests of their children.
Parents will be able to get initial information and support on the range of options available to them through a 'gateway' service.
They can then decide whether to make their own, family-based arrangements, using the help they have received, or to use the new, much improved, child maintenance service, for which there will be a charge - although it will still be heavily subsidised.
Parents on the lowest incomes will have a heavily discounted upfront charge to join the scheme.
In cases where people have suffered domestic violence, their case will be fast-tracked directly onto the statutory service and no payment will be required to enter the system.
Parents who fail to pay their maintenance will be pursued with the full range of enforcement tools available, and will face additional penalty charges to help meet the cost paid by the taxpayer having to fund enforcement action against them.  
The Government's response to the consultation 'Strengthening families, promoting parental responsibility: the future of child maintenance' is published today at http://www.dwp.gov.uk/consultations/2011/strengthening-families.shtml
Notes to Editors
Family based arrangements
More than 3 million children live in separated families. Just under half of those actually benefit from an effective maintenance arrangement.
Over 100,000 children are currently estimated to be benefiting from family-based arrangements following contact between one or both of their parents and the Child Maintenance Options Service. 
We are committed to establishing a better network of support for parents so they can deal with maintenance issues in the broader context of the emotional and practical issues they face at separation.
Our research shows that over half of parents using the CSA would be likely to come to their own family-based arrangements with the right support.
There are already more than 170,000 parents paying each other through 'Maintenance Direct', with the CSA's collection service to fall back on if payments are missed.
Charges
The CSA currently spends over 40 pence for every pound transferred from the non resident parent to the resident parent - this does not represent value for money to the taxpayer.
Sir David Henshaw's 2006 report into child maintenance recommended charging for use of the statutory service as an essential part of changing the behaviour of parents and encouraging them to work collaboratively to take responsibility for the welfare of their children. We remain committed to implementing the previous government's legislation - the Child Maintenance and Other Payments Act 2008 - which took forward Henshaw's recommendation and provided for charging.
Details of exact charging levels will be announced in due course and will be subject to full public consultation and debate in Parliament.
Published 12 July 2011