Government plans release of public land to build 100,000 homes
Housing Minister Grant Shapps has today announced Government plans to release enough public land to build as many as 100,000 new, much-needed…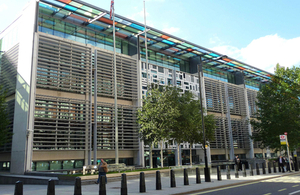 Housing Minister Grant Shapps has today announced Government plans to release enough public land to build as many as 100,000 new, much-needed homes and support as many as 25,000 jobs by 2015.
The amount of previously-developed land owned by the public sector is more than twice the size of Leicester.
So the Minister today confirmed that by this Autumn, every Government department with significant landbanks will publish plans to release thousands of acres of previously-developed land to housebuilders, so they can get on and build the homes the country needs - supporting thousands of jobs and releasing funds to help in the vital work of bringing down the Budget deficit.
To make this radical ambition a reality by 2015 the Public Expenditure Committee, a Cabinet Committee chaired by Francis Maude, will go through each department's plans with a fine tooth comb, to make sure every possible site is made available for housebuilding.
Alongside this, property specialists from across Government will work with each department and challenge them to release as much land as they can for new homes.
Ministers are also encouraging councils to follow the lead set by central Government and make their unused land available for development.
Later this year, a new map will be launched to show land and buildings owned by public bodies in each area. A new Community Right to Reclaim Land has been introduced enabling residents to apply to organisations including central Government departments and councils to bring their sites back into use - opening up the books so local people can see for themselves the assets held by central and local Government alike.
Grant Shapps also outlined his own department's contribution, as the Homes and Communities Agency publishes its plans to release more land for redevelopment. This includes through a radical Build Now, Pay Later deal, which offers a boost to housebuilders who only pay for the land once work has started on the new homes - providing a lifeline to those struggling with cashflow problems, and enabling them to start building straight away.
Publicly owned sites such as the following have been, and are being, made available for new housing developments across the country:
Fairmile, Oxfordshire - A 40-hectare former hospital site owned by the Homes and Communities Agency, beside the river Thames in Cholsey, Oxfordshire. Fairmile is being transformed with the creation of 354 new homes including refurbished houses and apartments within the retained Grade II hospital buildings. There will be a mix of commercial, community and leisure facilities as well as landscaped grounds that will be made accessible to the public. The first new homes are due to be completed by developer Linden Homes this month and it is expected that the whole scheme will be complete by 2014. This will also serve as an early pilot for 'Build Now, Pay Later'.
New Covent Garden Market - a 57 acre site, in Vauxhall, South London, will be redeveloped at no cost to tax payers to provide a new modern market, 2300 apartments, a hotel, shops, a major grocery store and community facilities including a food industry training suite. The market hosts 200 businesses with more than 2500 people employed on the site, the largest single employment site in Wandsworth. New Covent Garden Market is part of the Nine Elms Opportunity area which includes Battersea Power Station and the future home of the American Embassy. To provide additional transport links for the area, which when completed will include 16,000 homes including affordable housing, the developers are funding London Underground's Northern Line Extension. Covent Garden Market's redevelopment project includes the start of the new Green Linear park which will link the Nine Elms Opportunity area and provide additional outdoor and community space for Londoners and visitors; and
Bath - The rationalisation of office accommodation owned by the Ministry of Defence will free up sites in Bath, which will be brought forward for disposal over the next few years. Subject to planning, the sites have the potential for around 1000 new homes. Bath and North East Somerset's Core Strategy is going to Enquiry in Public in September 2011 and it is anticipated that the Inspector's report is due in spring 2012.
Housing Minister Grant Shapps said:
As one of the country's biggest landlords, the Government has a critical role to play in making sites available for developers so we can get the homes this country needs built.

So today, I can confirm an ambitious challenge across Government to release enough land from Whitehall's grip for 100,000 new homes across the country. Over the coming months, property specialists will work to make sure no stone is left unturned and no site is left unused, and every department's plans will come under the close scrutiny of a Cabinet committee.

The work starts today, with sites already being brought forward by three different departments, including my own, some of which will be available on new terms so developers can start building straight away. So we are already off to a flying start - it is now for developers to come forward, make the most of this unique opportunity, and help contribute to our country-wide efforts to help get the homes this country needs built.
Chief Secretary to Treasury Danny Alexander said:
This is a double dose of good news, creating and sustaining thousands of jobs by boosting housebuilders while also creating thousands of new homes for people to live in. Getting the economy growing is the Government's top priority and this move, combined with other measures set out in the Plan for Growth to ease planning restrictions, are a key part of helping the private sector led recovery.
Mark Clare, Chief Executive of Barratt Developments PLC, said:
This is a big step in the right direction. The rapid release of publicly owned land has the potential to be an effective catalyst for increasing the supply of land for new homes in this country during the next few years.

Barratt has an established track record of working with public sector partners to build out important sites and deliver desperately needed new homes. We are already working on a number of Build Now Pay Later sites with the public sector and, in the wake of today's announcement, will be looking at ways to expand and deepen that partnership.
Twitter
Keep up to date with the Department by following us on Twitter (external link).
Media enquiries
Visit our newsroom contacts page for media enquiry contact details.
Published 8 June 2011