Government opens up contracts to small business
A radical package of measures has been launched to open up business with government and to help small companies or organisations to bid.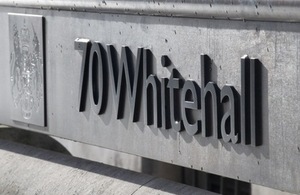 A radical package of measures to open up the way that government does business and to make sure that small companies, charities and voluntary organisations are in the best possible position to compete for billions of pounds worth of contracts has been outlined by the Prime Minister today.
After listening to the views of hundreds of small business owners, the government has taken action to ensure that small firms and organisations, which it considers to be vital to the economy and promoting growth, are no longer shut out of procurement processes because of excessive bureaucracy and petty regulation.
Today's announcements also go one step further and ensure that procurement opportunities will be available for everyone to see, free of charge, meaning government deals are more transparent than ever before.
Key measures announced today include:
the launch of a Contracts Finder website; the new online facility, which is available from today, will become the place to find public sector contracting opportunities over £10,000 and will make the government's procurement process totally transparent. From now on, all organisations need to do is to specify which contracts they are interested in and details will be emailed free of charge.
the appointment of Stephen Allott as a new Crown Commercial Representative (CCR) for SMEs; his task will be to build a more strategic dialogue between government and smaller suppliers, giving those suppliers a strong voice at the top table
the launch of SME (Small Medium Enterprise) product surgeries. These events will be led by the new CCR and will give SMEs the opportunity to pitch innovative products and services direct to a panel of senior procurement and operational professionals from central government and the wider public sector.
a completely new approach to assessing companies and organisations who want to do business with government so that SMEs are not disadvantaged, including:

seeking to eliminate PQQs (Pre-Qualification Questionnaires) for all central government procurements under £100,000; this represents a radical change in the way pre-qualification is carried out and means that from now on procurers will be free to choose the best route to market for their individual circumstances
allowing firms to submit their prequalification data once for all procurements in common commodities; this will put an end to companies having to submit the same data time and time again, saving time and money for the suppliers and for government

publication of the findings of the Cabinet Office's LEAN Review into procurement processes, which will show the government is doing all it can to reduce waste, tackle bureaucracy and lower the cost of doing business with government
Prime Minister, David Cameron, said:
Today we are announcing big changes to the way government does business. It will provide billions of pounds worth of new business opportunities for small and medium-sized enterprises, charities and social enterprises.

We need to make the system more open to new providers, more competitive between suppliers and more transparent for the taxpayer. This is vital as we get to grip with our deficit - helping us tackle waste, control public spending and boost enterprise and growth.

It will also help modernise our public services, opening them up to the forces of competition and innovation and give our great charities and social enterprises the opportunity to deliver services too.

I call on all those who think they can provide a great service for government, to take advantage of these opportunities, to go online and start searching for contracts now.
Minister for the Cabinet Office, Francis Maude, said:
Today marks the end of what I call the procurement oligopoly - where innovative small businesses and organisations are too often shut out of contract processes early on because of ridiculous rules and unnecessary bureaucracy. This is not only bad for those affected, it's also bad for government as it stifles competition.

Today's changes will help create a system which is transparent and allows small businesses and voluntary sector organisations to compete more fairly for government contracts - helping to drive economic growth at national and regional level, while delivering better deals for the taxpayer.
Additional measures announced today include:
the launch of an interchange programmeto enable the government to get secondees from the business world into its procurement teams and allow civil servants to get real commercial experience
local government support – Baroness Eaton, Chair of the Local Government Group has also announced her support for the new measures and the intention that local government will also make their opportunities available on Contracts Finder and use a simplified pre-qualification questionnaire
an extended Supplier Feedback Service so businesses can continue to tell government where there are still issues
'Mystery Shopper' & SME Panel opportunities, allowing people to contact the government if they see a tender that they don't understand, or if they think procurers could be even more open and transparent
Notes to editors
The Coalition Programme for Government stated: We will promote small business procurement, in particular by introducing an aspiration that 25% of government contracts should be awarded to small and medium-sized businesses.

The measures being announced today follow comments from SMEs on the Number 10 'problem with procurement' online feedback facility launched on 1 December 2010.

Francis Maude today hosted a Strategic Supplier Summit in central London to discuss the new measures with representatives of SMEs and government procurement.

The Crown Commercial Representative (CCR) network, including the SME CCR, will be operational from 1 April 2011.

Stephen Allott joins the Cabinet office as a Crown Commercial Representative specifically to focus on SMEs. He has over 25 years of experience having chaired the boards of seven different technology SMEs and led the successful growth of one SME from 50 to over 800 people. He has also been heavily involved in proving management consultancy to SMEs, founded the 'Cambridge Computer Lab Ring and is a judge on the software and internet track for the Cambridge University Entrepreneurs Business Plan competition. Stephen is a qualified barrister, graduate of Cambridge University and a frequent speaker on the growth of technology SMEs in particular.

The LEAN review, which was a 6 week 'lean' study of the government procurement process, was undertaken by the Cabinet Office in order to identify and measure the impact of waste in the existing process, and identify proposals and solutions for a future state. As a result of this LEAN review, by the end of March 2011, pilot projects will be in place across Whitehall to test and refine the new process to make doing business with government easier, less costly and less bureaucratic. The new 'lean' approach will be mandated across all government departments from January 2012.

Today's announcements build on the series of measures set out by Francis Maude at the Small Business Summit on 1 November 2010. These were designed to address the areas that SMEs have consistently highlighted as the biggest barriers to doing business with the public sector. These included plans to:
cut away unnecessary bureaucracy and waste by streamlining the procurement process
improve the transparency of public procurement opportunities
ensure that the new support package gives SMEs a fair deal in supply chains by requiring major suppliers to guarantee subcontractors working on government contracts are paid within 30 days and encouraging them to pass these payment terms down supply chains
Published 11 February 2011