Press release
Government on the side of small business
Ministers pledged further backing for small businesses today as one of its support schemes made its 5,000th loan to a young entrepreneur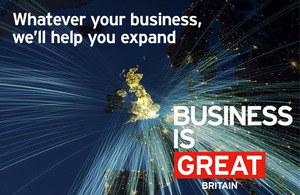 At an event at 10 Downing Street to celebrate the massive contribution that small businesses make to the economy, the Prime Minister announced that all the recommendations made in a recent report by his Enterprise Advisor Lord Young will be accepted – including lifting the cap on Start Up Loans so that over 30s who aspire to set up their own business will be able to access funds and get on in life. It will also be made easier for these people - and other small businesses owners - to access the right advice and support to succeed in the global race.
Caroline Bennett received the landmark loan of £7,000 to help get her online dating ideas business, Great Date London, off the ground. She was joined by a range of small firms and business groups at the event in the Downing Street garden with the Prime Minister and ministers from the Department for Business, Innovation and Skills (BIS).
The event was part of the government's GREAT campaign and celebrated the important contribution that small businesses make to the UK economy - with small firms accounting for 99.9 per cent of all businesses in the UK.
The recommendations from Lord Young's report will also inform the work BIS is leading with the small business community to refresh the 2011 small and medium sized business strategy 'Bigger, Better Business'. The publication, expected in the autumn, will look at making it easier for small and medium sized businesses to access the right support, and to improve the way government communicates with firms.
Business Secretary Vince Cable said:
Half of all jobs in this country come from small and medium sized business. So if we're to get our economy going again, we must do all we can to support them.
Many of the measures we've focused on so far such as better access to finance, mentoring and scrapping red tape have already helped. There is a record number 4.8 million small businesses in the UK, and the figures have suggested record numbers of start-ups. 5,000 of them are now being backed by our Start Up Loans scheme, which is rolling out rapidly.
We now plan to do more and do it better, by making our schemes and the way we provide advice much simpler.
Business and Enterprise Minister Michael Fallon said:
We all want faster growth. As Britain recovers, small firms are leading the generation of ideas, creating new jobs and driving enterprise. Whether by encouraging more firms to export or opening up procurement opportunities, government is backing ambitious businesses by giving them the support they need to grow.
It's important we listen to what small firms want so we make Britain the best place to start, grow and finance a business. This government is on the side of small business and will always back hard-working people who want to get on in life.
Start Up Loan recipient Caroline Bennett said:
The loan has given my business the boost it needed to get off the ground, although there is more risk attached to entrepreneurship, I haven't regretted it for a moment; I actually wake up in the morning looking forward to starting work.
Everyone I've dealt with has been really helpful and I'm really looking forward to meeting with my mentor to get advice on how to take my business to the next level. Lord Young published his report 'Growing your business: a report on growing micro business' last month. It looked at the barriers small business face when they want to move to the next stage, and how government can better target its support to ensure firms can get off the ground.
In formally accepting his recommendations, the government is committing to improve and consolidate the current advice and support schemes and take more time to listen to what small businesses want and how to effectively support their ambitions.
Notes to editors.
1.Lord Young's recommendations included:
Legislating to abolish pre qualification questionnaires (PQQ) on contracts under €200k across the public sector, and setting "single market" principles which suppliers can expect when doing business with the public sector. These principles would simplify and standardise the bidding, payment and advertising of contracts, and would remove the complexity, cost and inconsistency when trying to sell to more than one local authority or public sector body. This would help SMEs further access the £230 billion per year that is spent on goods and services across the whole public sector.
A £30 million Growth Voucher programme to test how best to get support to small businesses in order encourage more to get specialist help on: expanding their workforce; marketing a business; financial management and growing online. Businesses that use external advice at key stages in their development grow faster than those that do not - but too few are taking this up.
A greater role for business schools in the local economy with the establishment of a new national "Supporting Small Business Charter" and accompanying award scheme to incentivise business schools to help SMEs grow. This will include advising small firms and increasing the flow of highly qualified students and graduates into SMEs. Business schools could also become a key part of the referral process and provision of Start-Up Loans and Growth Vouchers.
Better marketing of government schemes to support new and developing businesses by ensuring they are properly resourced and targeted at the small firms that need them most.
2.Lord Young's report on growing small businesses is available here: https://www.gov.uk/government/uploads/system/uploads/attachment_data/file/198165/growing-your-business-lord-young.pdf
3.BIS has already met with stakeholders, including small businesses, to look at the government's business support offer. To start the work around making it easier for small businesses to find out about relevant and useful support www.greatbusiness.gov.uk now incorporates support and advice for businesses looking to grow, as well as entrepreneurs looking to start out.
4.As part of government's efforts to make the journey to business support easier, the government has teamed up with LinkedIn to develop communications.
5.The 2011 strategy 'Bigger, Better Business' is available here: https://www.gov.uk/government/uploads/system/uploads/attachment_data/file/32225/11-515-bigger-better-business-helping-small-firms.pdf
6.BIS has asked the Start Up Loans Company to develop proposals on removing the age cap for loans and how it can be delivered.
7.The government also intends to introduce reforms on procurement and will consult as soon as possible to ensure the wider public sector supports growth through procuring with small and medium sized businesses.
8.More information about the number and impact of small and medium sized business in the UK can be found here: https://www.gov.uk/government/organisations/department-for-business-innovation-skills/about/statistics
9.The Deputy Prime Minister today joined up with entrepreneur James Caan to launch a major new campaign calling on companies large and small to sign up and open their doors to young people from all walks of life. The Opening Doors campaign is part of the Deputy Prime Minister's social mobility drive. Over 150 of the UK's major organisations have already signed up to offering fair and open access to their jobs and professions for young people, regardless of who they are or where they come from.
10.The government's economic policy objective is to achieve 'strong, sustainable and balanced growth that is more evenly shared across the country and between industries'. It set four ambitions in the 'Plan for Growth' (PDF 1.7MB), published at Budget 2011:
to create the most competitive tax system in the G20
to make the UK the best place in Europe to start, finance and grow a business
to encourage investment and exports as a route to a more balanced economy
to create a more educated workforce that is the most flexible in Europe.
Work is underway across government to achieve these ambitions, including progress on more than 250 measures as part of the Growth Review. Developing an Industrial Strategy gives new impetus to this work by providing businesses, investors and the public with more clarity about the long-term direction in which the government wants the economy to travel.
Published 5 June 2013