Press release
Government invests £120 million to boost health research
Health Secretary invites researchers to help tackle the country's biggest health challenges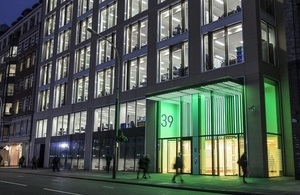 Secretary of State for Health, Jeremy Hunt, announced today that £120 million will be invested in health research to benefit millions of patients and tackle some of the country's biggest health problems over the next five years.
The £120 million National Institute for Health Research (NIHR) scheme is part of the Government's commitment to put the UK at the forefront of health research. Jeremy Hunt is calling for researchers to make a real impact on patients' lives, whether this is through revolutionary new treatments to tackle the biggest killer diseases or better joined up care for patients with long-term conditions to make their lives easier.
The new funding builds on previous successful NIHR health research that has led to improvements in treatments for patients and now widely used in the NHS. This includes a new blood clotting drug that reduces the risk of death in patients by 30 per cent. In another example, research is leading to better follow up care for stroke survivors through a simple questionnaire to make sure their needs are being met and that support is available in the community. This new system is now being provided across 15 services across England, covering 1000 patients. 
Health Secretary Jeremy Hunt said:
"Britain is one of the best research centres in the world and it is important that we harness the skills and creativity in this sector to really improve the lives of those who use the NHS.
"If we can have better tests, better technology and make better use of the skills of NHS staff, we will be in a better position to tackle the changing needs of our population and ensure patients get the care they deserve."
Professor Dame Sally Davies, Chief Medical Officer and Chief Scientific Advisor at the Department of Health, said:
"This National Institute for Health Research (NIHR) supports world-class research in the NHS, and ensures patients benefit from the latest advances in healthcare treatments.
"This new funding will support the best health researchers around the country. The collaborations will conduct the very highest quality research across universities, the NHS and in other relevant organisations. They are therefore ideally placed to play a key role in ensuring that advances in treatments for a wide variety of diseases reach our patients, so that thousands of people will benefit right across the country." 
The new £120m investment will support up to 12 National Institute for Health Research Collaborations for Leadership in Applied Health Research and Care (NIHR CLAHRCs) around the country, tasked with ensuring the best evidence gained from research is applied directly to the NHS to make the lives of millions of patients better.
The investment, part of the Government's plans to secure the NHS as a world leader in health research, as well as helping to ensure patients get the best treatment possible.
Notes to editors
For further information, please contact the Department of Health press office on 020 7210 5821.
The competition is now open for bidders and will close in May 2013.
National Institute for Health Research Collaborations for Leadership in Applied Health Research and Care (NIHR CLAHRCs) were established in 2008 to undertake high quality health research focused on the needs of patients and to support the translation of research evidence into practice in the NHS.
Some examples of NIHR CLAHRCs research projects
Blood-clotting drug reduces risk of death by 30 per cent
Pioneering research undertaken by the NIHR CLAHRC in the South West of England in 2008 revealed the risk of death in patients with severe bleeding was reduced by up to 30 per cent if Tranexamic acid (TXA), a blood-clotting drug, was administered within three hours. Although using TXA is routine practice for military trauma teams, its use in the NHS had been limited, yet it's estimated from this research that it could save 400 lives a year in the UK and reduce the burden of trauma-related disability.
For further information contact: Professor Stuart Logan on 01392 262963 or email stuart.logan@pms.ac.uk
Over-the-phone therapy more convenient for patients and saves NHS money
The financial cost of depression in the UK was approximately £150 billion in 2009-10.
A study of nearly 40,000 individuals showed that therapy delivered over the telephone was not only as effective, but also more convenient for patients and 30 per cent cheaper to the NHS.
The NIHR CLAHRC for Cambridgeshire and Peterborough and NHS East of England evaluated whether face-to-face therapies were more effective than over the telephone for those with mild to moderate depression and anxiety, common conditions that cause enormous disability.
For further information contact: Professor Peter Jones on 01223 336961 or email pbj21@cam.ac.uk
Step forward for stroke care in the community
Stroke survivors all over the country now receive better follow-up care thanks to a successful initiative set up by the Stroke Association and the Greater Manchester Collaboration for Leadership in Applied Health Research and Care (GM CLAHRC).
Working in close collaboration with stroke professionals, patients and carers, the Greater Manchester Stroke Assessment Tool (GM-SAT), which identifies and addresses long term unmet post stroke needs, was developed as a part of the initiative. GM-SAT covers a wide range of health, social and emotional problems that people who have had a stroke may experience in the longer term.
According to the National Stroke Strategy, patients should be reviewed at six weeks, six months and then annually after a stroke so that any issues can be addressed promptly and stroke survivors receive the vital ongoing support they need.  Yet the Stroke Association's recent report, Struggling to recover, found that as many as one in five stroke survivors are receiving only one assessment.
However, as a result of funding, six month reviews are now being undertaken by the Stroke Association in 15 areas using the GM-SAT. This comes as a direct result of a national pilot project undertaken in 2010 that found that the Stroke Association's coordinators were ideally placed to deliver six-month reviews using GM-SAT. One thousand reviews have already been conducted through the scheme since December 2011.  Stroke survivors are evaluated on a range of issues, from the management of their medication, through to their physiological state of mind.
Every stroke survivor involved in the programme reported at least three issues they required help with at six months after their stroke, highlighting the need for regular monitoring in the community. 
For further information contact: Professor Bonnie Sibbald on 0161 275 7604 or email Bonnie.Sibbald@manchester.ac.uk
Huge increase in detection of gestational diabetes
The NIHR CLAHRC for Leeds, York and Bradford reviewed all of the risk factors for gestational diabetes for women in pregnancy, and piloted universal screening for pregnant women.
This brought about an increased detection rate of three times as many pregnant women, allowing doctors to reduce the effects of the condition; women with unmanaged gestational diabetes are at increased risk of developing type 2 diabetes after pregnancy, as well as having a higher incidence of pre-eclampsia and Caesarean section. Their children are more prone to developing childhood obesity,with type 2 diabetes later in life.
For further information contact: Professor Stephen Smye on 0113 392 6519 or email S.W.Smye@Leeds.ac.uk
About the NIHR
The National Institute for Health Research (NIHR) is funded by the Department of Health to improve the health and wealth of the nation through research. Since its establishment in April 2006, the NIHR has transformed research in the NHS. It has increased the volume of health research for the benefit of patients and the public, driven faster translation of basic science discoveries into tangible benefits for patients and the economy, and developed and supported the people who conduct and contribute to health research. The NIHR plays a key role in the Government's strategy for economic growth, attracting investment by the life-sciences industries through its world-class infrastructure for health research. Together, the NIHR people, programmes, centres of excellence and systems represent the most integrated health research system in the world. For further information, visit the NIHR website (www.nihr.ac.uk).
Published 9 January 2013