Press release
Government funding secures Cornwall to London air link
Department for Transport signs second public service obligation to protect Newquay to London Gatwick route.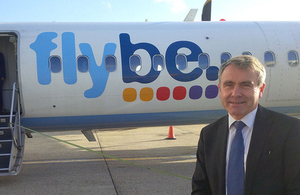 A crucial transport link between the south west and London has been secured after the Department for Transport announced a 4 year funding deal for flights between Newquay and London Gatwick airport.
The public service obligation (PSO) will continue a link which contributes millions of pounds to the Cornwall and south west economies. The government is providing £2.5 million in addition to £300,000 from Cornwall Council. Three flights each way will take place during the week with 2 weekend rotations. Around 100,000 passengers use the route every year for work or leisure.
Flybe will operate the flights with the timings providing a convenient schedule for a full working day at either destination.
UK Aviation Minister Robert Goodwill said:
Keeping our regions connected with London is a vital part of our long term economic plan. That is why we have worked so hard with Cornwall Council to protect the route to Newquay and make sure we do all we can to support the local area.

Fast, frequent flights to the south west will unlock access to stunning landscapes and skilled businesses, benefiting the region and the UK as a whole.
Chief Secretary to the Treasury Danny Alexander said:
The air link between Newquay and London is vital for Cornwall's businesses, tourist industry and residents, so I created the Regional Air Connectivity Fund and fought for £2.5 million for Newquay to ensure that this crucial service could continue. With a return rate of nearly 3 pounds for every pound invested, it's a great deal for the UK taxpayer as well as for the south-west.

I hope this fund will help other remote areas of the UK sustain economically important connections to London too.
The Regional Air Connectivity Fund was announced by the government in June 2013. The fund is being used to maintain important regional air connections. The government doubled the size of the fund to £20 million per year in the 2014 Budget.
The 4 year length of the deal provides certainty to the region and marks the second UK government PSO, following a 2 year deal for the Dundee-London Stansted air link which was announced in June 2014.
The airport is part of Newquay Aerohub Enterprise Zone- one of 24 government-backed sites nationwide that are helping companies grow by offering top-class business incentives and world-class infrastructure. Home to Augusta Westland's Operational Flight Training Centre and the supersonic car the Bloodhound, the Zone is positioning itself as a key centre for the aviation and space sectors and will benefit from the continued operation of these flights.
Separately, Transport Minister John Hayes today visited London City Airport to welcome the economic boost provided by the new Flybe routes connecting UK regions with London.
Aviation and maritime media enquiries
Media enquiries 020 7944 3021
Out of hours media enquiries 020 7944 4292
Switchboard 0300 330 3000
Published 27 October 2014