Government examines support for self-employed
Leading entrepreneur Julie Deane OBE, founder of The Cambridge Satchel Company, is to carry out an independent review of self-employment in the UK.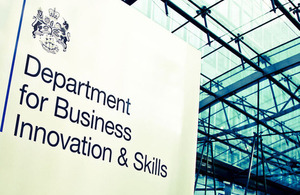 The review, launched today, will report to the government on the challenges and opportunities for those who want to work for themselves.
The UK labour market is one of the most diverse in the world with self-employment accounting for over a quarter of the growth in employment since 2010. According to ONS figures, 1 in 7 people in employment choose to work for themselves, making a total of 4.5 million people.
The review will highlight the contribution they make to the UK economy and consider how they can be better supported, for example women building businesses alongside childcare commitments.
Julie Deane's review will:
explore why people opt to be self-employed as well as the different types of work that they carry out, including freelancing professionals, sole traders and those who are employed but also work for themselves
look into the challenges and issues faced by people who are self-employed, especially when setting up or developing their business
recommend how the UK can create a more flexible and supportive environment
The review will also look at what can be done to provide more security and peace of mind, for example, when juggling self-employment and having a family, buying a home or saving for retirement.
The Prime Minister David Cameron said:
I am delighted that Julie Deane has agreed to carry out this review, with her own extensive experience of starting out on her own. Her review will shine a light on self-employment, a key part of our long term economic plan, looking at what can be done to provide more security and peace of mind for people wanting to work for themselves.
Business Secretary Sajid Javid said:
The government is on the side of working people. As part of our aim to achieve full employment, we want to create an environment that supports people who want to work hard and strike out on their own and makes the UK the best place in Europe to start and grow a business.
Julie Deane OBE, founder and CEO of The Cambridge Satchel Company, who is leading the independent review said:
The business landscape has changed so much in the last 10 years and in such a way that self-employment is now a viable option for so many more people. I have first-hand experience of the immense opportunities starting your own business can bring, but also understand the challenges that can face those starting out on their own. Having grown my business to employ more than 130 people and selling to over 120 countries, I have a clear of idea of the way in which government can better support the self-employed. I hope this review will help others in the future to turn their ideas into successful businesses.
David Morris, the Prime Minister's self-employment ambassador said:
I am delighted the government is carrying out this independent review. The self-employed make an important contribution to the UK economy and this review will help us to support the nation's entrepreneurs even further.
The review is expected to be published in early 2016.
Notes to editors:
Julie Deane OBE started The Cambridge Satchel Company from her kitchen table in Cambridgeshire in 2008 with just £600. The company now turns over £10 million per year, employing over 130 people and selling to over 100 countries whilst still manufacturing all its products from its UK workshop. Following collaborations with the likes of Vivienne Westwood and Commes des Garcons, the leather satchels, bags and accessories have been worn by celebrities including Taylor Swift, Alexa Chung and Fearne Cotton. Julie is also ambassador for the Queen Elizabeth Scholarship Trust, reflecting her ongoing commitment to British manufacturing and craftsmanship.
Julie Deane is a supporter of the Business is GREAT campaign, which aims to build confidence among small businesses to encourage them to grow. The campaign highlights a range of government support to help them plan, hire and export.
ONS Labour Market statistics for February to April 2015 were published on 17 June 2015.
Published 1 July 2015