Government bans use of CCTV 'spy cars' for on-street parking
Use of closed circuit television spy cars on their own to enforce on-street parking made illegal.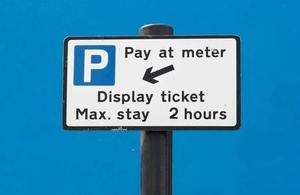 In a victory for drivers and shoppers, the government will make it illegal to use closed circuit television (CCTV) 'spy cars' alone to enforce on-street parking ending the plague of parking tickets by post, Communities Secretary Eric Pickles and Transport Secretary Patrick McLoughlin announced today (21 June 2014).
The announcement is one of a range of measures that will give hard working people and local shops a fairer deal by reining-in over-zealous parking enforcement practices, which often force people to shop in out-of-town centres or online.
The long-called for ban will now become law through the Deregulation Bill, following a 3-month consultation. Tickets will have to be fixed to the windscreen by parking wardens, making it illegal for councils to issue penalty charge notices to drivers using just the CCTV spy cars that currently patrol roads for on-street parking enforcement.
Parking officers will now carry out all essential enforcement, limiting the use of CCTV to issue tickets by post to critical routes such as schools, bus lanes, bus stops and red routes where public transport must be kept moving for safety reasons.
The other measures designed to help local shops, support drivers and give communities a greater say on parking policies include:
trialling a 25% discount for motorists who lose an appeal against a parking ticket at tribunal on the full price of their parking ticket
changing guidance so motorists parking at an out-of-order meter are not fined if there are no alternative ways to pay
introducing a new right to allow local residents and local firms to demand a review of parking in their area, including charges and the use of yellow lines
reforming operational parking guidance so it is less heavy handed with motorists, prevents over-aggressive action by bailiffs, positively supports local shops and clearly reinforces the prohibition against parking being used to generate profit
proposing a widening of the powers of parking adjudicators. This could include, for example, measures to protect drivers where adjudicators have repeatedly identified a problem at a specific location, such as inadequate signage, and parking tickets have repeatedly been issued - in such circumstances, potential measures could see adjudicators allowed to direct an authority to stop issuing tickets or direct the authority to change the signage, or indeed both
updating guidance so the public know when they can be awarded costs at tribunals
increasing parking transparency so councils are required to publish how income from parking charges is being used, including a new statutory Transparency Code
maintaining a freeze on parking penalty charges for the remainder of this Parliament
introducing mandatory 10 minute "grace periods" at the end of on-street paid for and free parking; councils and parking adjudicators, who rule on penalty charge notice appeals, would be obliged to follow the new statutory guidance; any breach would be deemed an illegal fine and trigger a refund
Communities Secretary Eric Pickles said:
CCTV spy cars can be seen lurking on every street raking in cash for greedy councils and breaking the rules that clearly state that fines should not be used to generate profit for town halls.

Over-zealous parking enforcement and unreasonable stealth fines by post undermine the high street, push up the cost of living and cost local authorities more in the long term.

Today the government is taking urgently needed action to ban this clear abuse of CCTV, which should be used to catch criminals, and not as a cash cow.
Transport Secretary Patrick McLoughlin said:
These measures will deliver a fairer deal for motorists, ensuring that parking enforcement is proportionate, that school children are protected and buses can move freely, and that key routes are kept clear.
Further information
Local authority revenue from parking in England rose from £608 million in 1997 to £1.3 billion by 2010. Nine million parking fines are now issued every year by local authorities in England. There has been a big increase in the use of CCTV for on-street parking enforcement following legislation in 2004.
The government has already scrapped previous Whitehall planning policy that encouraged councils to hike car parking charges, and removed Whitehall restrictions which restricted the provision of off-street parking spaces.
Office address and general enquiries
2 Marsham Street
London
SW1P 4DF
Contact form https://forms.communit...
General enquiries: please use this number if you are a member of the public 030 3444 0000
If your enquiry is related to COVID-19 please check our guidance page first before you contact us - https://www.gov.uk/guidance/coronavirus-covid-19-guidance-for-local-government.

If you still need to contact us please use the contact form above to get in touch, because of coronavirus (COVID-19). If you send it by post it will not receive a reply within normal timescale.
Published 21 June 2014
Last updated 23 June 2014
+ show all updates
Added link to consultation

First published.