Press release
Government asks retailers to lead the way on transparent supply chains
Recommendations on the steps that industry can take to help eradicate human rights abuses to be produced by the British Retail Consortium.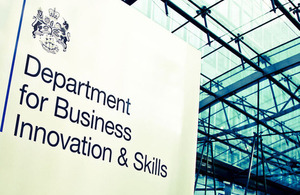 Recommendations on the steps that industry can take to help eradicate human rights abuses in their supply chains are to be produced by the British Retail Consortium (BRC), Business Minister Jenny Willott announced today (25 June 2014).
The BRC will work with its members and produce a document later this year (2014) highlighting good practice after a request from the minister. The publication will look to help companies address abuses such as forced labour and dangerous working conditions in their suppliers abroad.
They will also include a framework of human rights reporting requirements, information on ethical auditing and the various accreditation schemes available.
In addition, findings from an Ipsos MORI poll published today show that shoppers take the issue of ethical practices seriously in their purchasing habits. They show that:
more than 4 in 5 (83%) say the ethical standards of retailers matter to them
2 in 5 (39%) say their shopping decisions have been influenced by this in the last year
the same proportion (38%) say they are willing to spend more on a product if a company acts in an ethical way
Business Minister, Jenny Willott, said:
Transparency should always be at the heart of every business. All companies, including those in the retail sector, need to make sure that they are giving the right information to their customers and are being open about their supply chains.

Shoppers more than ever want to know how what they buy got from the factory to the shelf. They are also not afraid to speak up or vote with their feet if they think that those producing their goods are being abused or exploited. It is great to see that the BRC are going to produce this information. I hope we will see progress as a result, with more businesses being open with customers and managing their suppliers in an ethical way.
Minister for Modern Slavery and Organised Crime, Karen Bradley, said:
Modern slavery is an appalling crime that has no place in today's society. All of us, including businesses, have to play our part if we are to stamp it out.

Companies have a social responsibility to ensure that those that they do business with are not involved in the exploitation of others. The government is talking to a range of business leaders about how we can eliminate forced labour and exploitation from their supply chains. I commend the BRC for taking a stand against this evil and raising awareness amongst its members.
Helen Dickinson, Director General of the BRC, said:
I'm delighted that the Minster has asked the BRC to share the retail industry's good practice on human rights with the wider business community. In order to achieve meaningful change in this area, businesses of all sizes, throughout the supply chain, need to understand the issues, be able to identify and then address worker abuse and exploitation. I hope that by sharing the experiences of responsible British retailers, we can help all those wanting to begin their journey of improving human rights through their supply chains.

Over the coming months, we will be working with our members to sign-post industry standards and initiatives and draw together examples of good practice.
The report will include information on:
ethical auditing programmes, outlining some of the main certification schemes and collaborative initiatives
organisations and partnerships, such as the Ethical Trading Initiative and UN Global Compact, which aim to provide advice, guidance and peer-to-peer learning for businesses
human rights reporting, including the UK's non-financial reporting regulations from 2013 and the planned introduction in 2016 of the EU equivalent
Further detail from the Ipsos MORI poll shows:
just under 2 in 3 (63%) say companies need to not only say that they are ethical, but be able to prove this
a similar proportion (62%), agree it is important that companies are clear about where they source their materials
for 1 in 3 (33%), a lack of information about ethical products is a barrier to buying
only 1 in 10 (12%) are not concerned about products produced in an ethical way
CAFOD's lead private sector analyst, Anne Lindsay, said:
The way that companies place their orders and set their prices affects the lives of workers right down the supply chain. We hope this guidance will help more businesses to understand that and take action. Workers themselves must be able to organise and speak up about poor conditions without fear.
Ethical Trading Initiative Director, Peter McAllister, said:
Incidents such as the Rana Plaza disaster have highlighted the need for businesses to take a responsible approach to eradicating human rights abuse in supply chains. We welcome this announcement and will continue to support the work of retailers in the UK who are working hard to ensure respect for human rights across their operations and supply chains.
Notes to editors:
Information on the Ipsos MORI polling information, Public views on ethical retail, can be found at 'Ethical retail: public views'
The Department for Business, Innovation and Skills commissioned Ipsos MORI to conduct a survey into UK attitudes to ethical standards in retail and their impact on the public's buying decisions.
Research was conducted on i:omnibus, Ipsos MORI's online omnibus, among a total of 2,257 adults aged 16 and above in the United Kingdom, between 13 and 17 June, 2014.
Survey data were weighted by age, gender, region, social grade, working status and main shopper to the known population profile to be nationally representative of adults aged 16 and above in the UK.
The responsibilities of government and business are set out in the UK's Business and Human Rights Action Plan which was published last year (September 2013).
For individual businesses, the UN Global Compact provides a framework for action on human rights, including workers in supplier companies. The UK Network http://www.unglobalcompact.org.uk/ is a forum for participation and knowledge exchange across all sectors. Members include leading retailers and suppliers such as Littlewoods, Burberry, Unilever, Diageo, Nestlé and Vestey Foods.
Existing programmes in the retail sector include the Ethical Trading Initiative, an alliance of companies, trade unions and NGOs that promotes respect for workers' rights around the world.
Sedex, the Supplier Ethical Data Exchange, is a not for profit membership organisation dedicated to driving improvements in responsible and ethical business practices in global supply chains.
Earlier this month (June 2014) the Home Office hosted a round-table meeting with business leaders to discuss how the government can work with companies to eliminate forced labour and exploitation from their supply chains. This important engagement with business is 1 element of the government's comprehensive programme to stamp out modern slavery.
The move follows the recent publication of a Modern Slavery Bill by Home Secretary Theresa May. The Bill is the first of its kind in Europe, and 1 of the first in the world, to specifically address modern slavery and trafficking. It will give law enforcement agencies the tools they need to target today's slave drivers, ensure perpetrators are severely punished and improve support and protection for victims.
Under UK legislation, listed companies are already required to report on human rights where necessary for an understanding of the business. This requirement was introduced for accounts ending after 30 September 2013, so the first reports under these provisions are now being published.
The reporting of human rights will be further strengthened by new reporting rules expected to be introduced in 2016.
Published 25 June 2014