Press release
Government announces two new programmes for employers to take on young disabled people
Young people who are disabled will be given help to find employment through a Supported Internship programme and a Traineeship programme.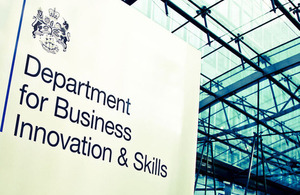 Young people who are disabled will be given help to find sustainable paid employment through a new Supported Internship programme and a new Traineeship programme, Business Secretary Vince Cable announced.
The Department for Education funded Supported Internships will offer specialised employment-focused study programmes for young people aged 16 to 24 with complex learning difficulties and disabilities.
Offered through further education colleges, they will help trainees learn from expert career coaches while doing real jobs for a minimum of 6 months.
Employers will also receive support from the coaches, increasing their confidence of working with disabled young people and helping them to understand the business case for employing a diverse workforce.
The new mainstream Traineeships programme will give 16 to 24 year olds the workplace experience and job skills that employers require and will be open to disabled young people with less complex needs. The Traineeships programme will available from August 2013.
Speaking at the UK's first National Disability Employment Conference Business Secretary Vince Cable said:
Disabled people have a lot to offer British businesses but often their potential is largely untapped. If their employment rate matched that of the rest of the population, an extra two million people would be working.
The Internship and Traineeships programme will help create a fairer society by putting young people with disabilities on meaningful career paths and give employers the opportunity to see what they can offer.
With the 'disability pound' worth £80 billion to the British economy, there is a strong financial as well as social incentive for employers to recruit a more diverse workforce that understands the needs of all its customers.
Children and Families Minister Edward Timpson, who is responsible for Supported Internships, said:
Through the Children and Families Bill, our special educational needs reforms will give children, young people and their parents much greater control over the support they receive from birth to 25 – allowing them to focus on their aspirations.
We want to help young people with complex learning difficulties make a successful transition into employment. Supported Internships, like the one I visited at Mid-Cheshire College, provide a fantastic opportunity to learn the skills they need for the workplace whilst working in a real job.
Supported Internships have been trialled over the last year in 15 further education colleges for 16 to 25 year olds with complex learning difficulties and disabilities.
The £3 million pilot was announced as part of the government's formal response to the public consultation on its green paper, Support and Aspiration.
The Conference at the QEII Conference Centre in Westminster includes keynote speeches from Business Secretary Vince Cable, Work and Pensions Secretary Iain Duncan Smith, Barclays' CEO Ashok Vaswani and CEO of GSK Sir Andrew Witty.
If you want to follow the Disability Employment Conference – join in the conversation with #DisabilityConfident on Twitter.
Notes to editors:
1.On Wednesday (17 July 2013) the government announced that Traineeships will be available from August 2013 and will offer 16 to 24 year olds a package of training and work experience to give them the skills and confidence to get a job or an apprenticeship. Further information can be found at: Mercedes-Benz, BT and Brompton Bicycle back traineeships to get young people ready for work
2.Further Information on Supported Internships including case studies can be found at: 'Preparing for Adulthood Factsheet 1: Supported Internships'
3.The list of colleges that took part in the trial is below:
Hull College (Kingston upon Hull City Council)
Blackburn College (Blackburn and Darwen Borough Council)
Mid-Cheshire College Of Further Education (Cheshire West and Chester Council)
Shipley College (Bradford Metropoliton District Council)
Stephenson College (North West Leicestershire District Council)
Easton Otley College of Agriculture And Horticulture (Suffolk County Council)
North Warwickshire and Hinckley College (Warwickshire)
Plumpton College (East Sussex)
East Kent College (Kent)
Bexley College (London Borough of Bexley)
Somerset College of Arts And Technology (Somerset)
Queen Alexandra College (Birmingham City Council)
Worcester College of Technology (Worcester City Council)
Seevic College, Sixth form college (Essex)
Bicton College, General FE college (Devon)
4.The government's economic policy objective is to achieve 'strong, sustainable and balanced growth that is more evenly shared across the country and between industries'. It set four ambitions in the 'Plan for Growth', published at Budget 2011:
to create the most competitive tax system in the G20
to make the UK the best place in Europe to start, finance and grow a business
to encourage investment and exports as a route to a more balanced economy
to create a more educated workforce that is the most flexible in Europe
Work is underway across government to achieve these ambitions, including progress on more than 250 measures as part of the Growth Review. Developing an Industrial Strategy gives new impetus to this work by providing businesses, investors and the public with more clarity about the long-term direction in which the government wants the economy to travel.
Published 18 July 2013