Government announces end of complex school financial reporting tool
Education Secretary Michael Gove announces the end of the Financial Management Standard in Schools (FMSiS).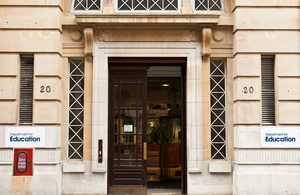 Michael Gove today announced the decision to scrap the complex and burdensome Financial Management Standard in Schools (FMSiS) with immediate effect. 1
Following discussions with local authorities and schools, there was an overwhelming consensus to scrap FMSiS and develop a simpler standard.
FMSiS was introduced in the early 2000s and made compulsory for all schools in 2007.
Schools were required to meet the standard every 3 years by going through a burdensome self-evaluation tool. Schools, particularly primary schools, found the system required too much documentation and was implemented in an overly bureaucratic manner. For example, it required them to submit documentation to meet more than 100 different assessment criteria ranging from providing evidence that meetings on school budgets were 'consistent with the deadlines for important financial decisions' to showing how the school had made staff aware of the local authority whistle-blowing policy.
Last year the Audit Commission said FMSiS focuses on processes rather than achievement of economy and efficiency, and that schools have not drawn an explicit link between its introduction and value for money.
The government recognises the importance of ensuring schools have the right arrangements in place to manage their budgets effectively and so we will now work with interested parties, including local authorities and schools, to develop a new, simpler way of doing this. It is hoped the replacement system will be introduced next year.
Michael Gove said:
We are committed to reducing the administrative burden on teachers and school governing bodies and have already cut the burdensome self-evaluation forms for school inspections. Today we are ending the overly bureaucratic Financial Management Standard in Schools, and we will continue to work with schools and local authorities to reduce the bureaucratic burden further.
Today's announcement was welcomed by headteachers. John King, Headteacher of Gable Hall School in Essex, said:
This marks the end of a hugely time consuming, burdensome bureaucratic and, in parts, senseless system of checking financial competency.
Claire Axten, Headteacher of Brookside Community Primary School in Somerset, said:
Our experience is that FMSiS was a very lengthy and burdensome process. The aim of FMSiS was to achieve value for money but the process was so time consuming this defeated the aim at the beginning! I am very pleased the government has decided to end the current system and replace it with a much simpler, national standard.
Pippa Dodgshon, Headteacher at Hall Cross School in Doncaster, said:
The system was unwieldy and the process was expensive - a massive burden to schools.
DfE enquiries
Central newsdesk - for journalists 020 7783 8300
General enquiries - for members of the public 0370 000 2288
Published 15 November 2010