News story
Government announces details of £2.5 million to celebrate centenary of suffrage
Minister for Women and Equalities Amber Rudd announces details of a £2.5 million investment to celebrate 100 years of women having the right to vote.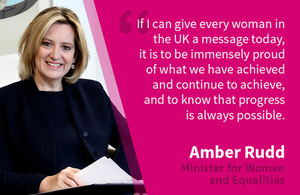 Amber Rudd today (6 February) opened a £1.5 million Women's Suffrage Centenary Grant Scheme for bids of up to £125,000 for projects running throughout the centenary year to encourage communities to celebrate and to help make modern politics more accessible.
Ms Rudd revealed how a further £1 million will be invested to mark the important democratic milestone, including a scheme to inspire a new generation of young women by matching them with leaders in their communities.
Home Secretary and Minister for Women and Equalities Amber Rudd said:
100 years ago, an army of brave women made enormous sacrifices to pave the way for the equal rights we enjoy in this country today.

The projects funded by this £2.5 million fund will honour their legacy by opening up modern politics to more people and ensuring we remember this landmark moment in our proud democratic history.
Over £1 million of the Centenary Grant Scheme will be available for at least 30 large-scale schemes to increase young people's engagement with democracy and to encourage more women to take part in public life.
The rest of the fund will be made up of smaller grants of up to £2000 for local events to celebrate and remember those who campaigned for change.
The first of these events is being held this week to mark the 6 February 100-year anniversary of the act of Parliament that first gave some women the vote. Over £60,000 has already been awarded to 35 local projects, including a tea party in Liverpool to bring schoolchildren and older people together to celebrate women's suffrage.
The Home Secretary announced that the additional £1 million funding will help fund a number of initiatives, including:
a year-long pilot matching 650 young women with female community leaders – such as politicians or businesswomen – to help develop their leadership potential
the closing ceremony for the 3-month long festival of The Great Exhibition of the North, which will commemorate the centenary and encourage more women to participate in politics
a public procession where female MPs walk from Parliament to an 'ask her to stand' event to encourage more women to sign up as candidates
The government will also help fund a public art march through the streets of the 4 capital cities, with people dressed in violet, green and white to look like a moving suffragette flag.
A new Celebrating Votes for Women web page will help people find out more about getting involved in centenary events through the year. The page includes links to information about the history of the suffrage movement and details of how to apply for a grant, as well as an events hub to show what is happening across the country.
The grant scheme and £1 million investment are part of a £5 million centenary fund created by the government to celebrate the centenary and to open up public life to more people.
£1.2 million has been awarded to 7 'Centenary Cities' and towns in England with a strong suffrage history to help inspire a new generation with the legacy of women's campaign for equal representation.
A statue of leading suffragist Millicent Fawcett, who helped win the vote for women, will be unveiled in Parliament Square later this year.
Published 6 February 2018