Government announces changes to qualifications and the curriculum
Details of the announcement that state schools can now offer iGCSEs in key subjects, and that phase 4 diplomas will be scrapped.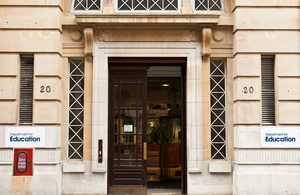 The government has today lifted restrictions that stopped state schools offering iGCSE qualifications in key subjects. It has also announced its intention to include iGCSE results in school performance tables as soon as possible.
The announcement means that from September, state-funded schools will be free to teach a wide range of these respected and valued qualifications, putting them on a level playing field with independent schools who have offered them for some time.
Schools Minister Nick Gibb has also announced that development of the new diplomas in science, humanities and languages, due to be introduced from September 2011, will cease immediately. This means instant savings of around £1.77 million, plus further savings in future years.
The Minister said it was not the role of government to force the development of new diplomas in humanities, sciences and languages. Stopping the phase 4 diplomas will help refocus efforts on tried and tested, rigorous qualifications in these subject areas, which employers and higher education are asking for.
Schools Minister Nick Gibb said:
After years of political control over our exams system, schools must be given greater freedom to offer the qualifications employers and universities demand, and that properly prepare pupils for life, work and further study.

For too long, children in state-maintained schools have been unfairly denied the right to study for qualifications like the iGCSE, which has only served to widen the already vast divide between state and independent schools in this country.
By removing the red tape, state school pupils will have the opportunity to leave school with the same set of qualifications as their peers from the top private schools - allowing them to better compete for university places and for the best jobs.

It's not for government to decide which qualifications pupils should take, or to force the development of new qualifications, which is why we are stopping development of the state-led academic diploma in humanities, sciences and languages from today. Instead, we will devote our efforts to making sure our existing qualifications are rigorous, challenging and properly prepare our young people for life, work and study.
Up until now, only independent schools were able to offer iGCSEs in English, mathematics, science and ICT, which are widely respected and recognised by universities and employers. A number of the high-performing state schools have expressed an interest in offering these exams, but were prevented from doing so - even where accredited by Ofqual - by restrictions the previous Government had in place.
By removing the red tape around iGCSEs and today approving them for use and funding in state-maintained schools, ministers have given a clear signal that headteachers should be given greater power to choose the qualifications that best meet the needs of their students.
Along with today's significant qualifications announcements, ministers also confirmed that they will not proceed with the last government's proposed new primary curriculum, which was based on a review led by Sir Jim Rose. The new curriculum was due to be taught in schools from September 2011, but the relevant clause in the Children, Schools and Families Bill did not successfully pass through the last Parliament.
Nick Gibb said:
A move away from teaching traditional subjects like history and geography could have led to an unacceptable erosion of standards in our primary schools.

Instead, teachers need a curriculum which helps them ensure that every child has a firm grasp of the basics and a good grounding in general knowledge, free from unnecessary prescription and bureaucracy.

It is vital that we return our curriculum to its intended purpose - a minimum national entitlement organised around subject disciplines.

Ministers have always made clear their intentions to make changes to the national curriculum, to ensure a relentless focus on the basics and to give teachers more flexibility than the proposed primary curriculum offered. They will shortly announce their next steps.
In the meantime, the Department for Education has advised schools that the existing primary curriculum will continue to be in force in the academic year 2011 to 2012 and primary schools should plan on that basis.
Notes to editors
Two English awarding organisations currently offer iGCSE qualifications. Cambridge International already has a range of its qualifications accredited by Ofqual under the title of 'Certificates'. Edexcel has a range of its qualifications being considered for accreditation by Ofqual under a similar title. The accredited qualifications have been approved immediately for use by 14- to 16-year-olds in state schools and ministers expect to be able to approve the remainder in time for them to be taught this autumn, if Ofqual independently verifies their quality.

The first 5 diplomas (engineering; IT; creative and media; construction and the built environment; society, health and development) have been taught in schools and colleges since September 2008. 5 more Diplomas were introduced in September 2009 (hair and beauty studies; environment and land-based studies; hospitality; business, administration and finance; manufacturing and product design). A further 4 diplomas will be first taught from September 2010 (travel and tourism; public services; retail business; sport and active leisure). The phase 4 diplomas in science, languages and humanities were due to be first taught from September 2011. All development work on these diplomas will now cease.

After school-level qualifications have been accredited by the exams regulator, Ofqual, the Secretary of State then decides if they should be approved to be taught in state maintained schools in England.
DfE enquiries
Central newsdesk - for journalists 020 7783 8300
General enquiries - for members of the public 0370 000 2288
Published 7 June 2010