Press release
Government announces £4.36 million for support worker skills in the NHS
Enterprise Minister announces £4.36 million of joint government and industry funding to improve skills for the NHS's 600,000 support workers.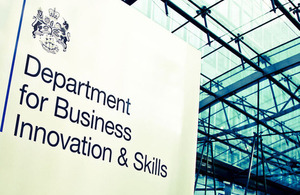 Enterprise Minister Matthew Hancock today (13 February 2015) announced £4.36 million of joint government and industry funding to improve skills for the NHS's 600,000 support workers.
The £1.96 million government funding comes from its Employer Ownership of Skills Pilot (EOP) fund. It was awarded following a tender from a partnership of public, private and third sector employers working with the NHS, to invest in the skills of their vital support staff. They are matching the government's funding with £568,000 of cash investment and £1.8 million of in-kind contributions, totalling £2.4 million.
The money will be used to establish a new national infrastructure for skills provision, directed by employers themselves, to bring thousands of NHS support workers up to a common high standard, and to maintain these standards for future workers. Employers in the project include University Hospital Southampton NHS Foundation Trust and its partners.
Enterprise Minister Matthew Hancock said:
NHS staff, like those at Southampton University Hospital, work tirelessly to maintain their high standards of care, and we must make sure that they are supported with the right skills to provide high quality care for patients.

Helping employers work together to build this will give the right staff the right skills to safeguard the future of the NHS.
The funding will be used to establish 6 new 'Excellence Centres' across England, which will bring together employers in different sectors to implement skills programmes in their workplaces. The centres will also direct the development of 20 new national e-learning resources to give more flexible skills training, offering 6 new learning programmes centred on patient care. These will help develop:
skills for providing community care (e.g. dementia support, medicine management, recognising signs of abuse)
support for developing key behaviours and values critical to new entrants
support for the development of study skills to facilitate the advancement of workers' skills to level 3, 4 and 5
further developing foundation skills (such as English, maths and IT) tailored to the needs of the sector
support for the development of clinical skills which may lead on to Apprenticeships and other advanced training (eg blood transfusion and maternity support)
The new skills training for support workers will help the NHS become more efficient, creating estimated productivity gains of £2 billion. It will also support the creation of 10,000 additional apprentices and trainees, all with a high skills level, to create a more versatile and robust NHS.
Anita Esser, Head of Wider Healthcare Teams Education, University Hospital Southampton NHS Foundation Trust, said:
We are delighted to be working with the National Skills Academy for Health to help take this project forward, as developing the talent of support workers in healthcare organisations is vital for safe care to be delivered.

By working collaboratively with other employers, education providers and other partners we will be able to provide more opportunities for support staff to gain skills and offer further career development.
Creating a more skilled support workforce will help to meet the needs of an ageing population, with more flexible care options. It will also provide essential support for more qualified clinical staff, reducing the skills gap which can lead to qualified nurses covering for support tasks and reducing their time with patients.
Notes to Editors
The Employer Ownership Pilot (EOP) is a £340 million competitive fund that invited employers, over 2 rounds, to tell government how they would better use public investment, alongside their own, to invest in the skills of their current and future workforce in order to grow our economy.
The project is for England and is jointly funded by the Department for Business, Innovation and Skills (BIS) and the Department for Education (DfE), and is administered by the Skills Funding Agency (SFA). The project was developed in conjunction with the UK Commission for Employment and Skills (UKCES).
The National Skills Academy for Health works with employers to ensure the support workforce gets the training they need to do the job they love, creating and maintaining the high quality health service we all want.
University Hospital Southampton NHS Foundation Trust is one of the largest acute teaching trusts in England, with an annual spend of £572 million at 3 sites across the city of Southampton. It provides hospital services for 1.9 million people living in Southampton and southern Hampshire and specialist services including neurosciences, respiratory medicine, cancer, cardiovascular, obstetrics and specialist children's services to more than 3.7 million people in central southern England and the Channel Islands. Every year more than 9,500 staff, including nearly 700 consultants, professors and senior lecturers, see 460,000 people at outpatient appointments, deal with 120,000 attendances at the emergency department and treat 140,000 admitted emergency, inpatient or day case patients. In addition, the trust delivers more than 100 outpatient clinics across the South of England to keep services local for patients. Providing these services costs £1.6 million per day.
Published 13 February 2015