Press release
Government and industry unite behind industrial strategy to help British businesses grow
Government has now committed over £4 billion to industrial strategy, leveraging in billions more in private sector funding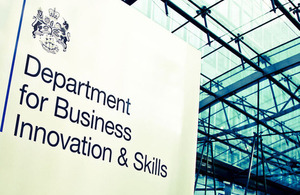 One year on from its launch the government has now committed over £4 billion to industrial strategy, leveraging in billions more in private sector funding.
Industrial strategy sees government work in partnership with business as part of a united approach to create jobs and economic growth for the long term. It is a vital part of our efforts to ensure that we succeed in the global race.
At a joint conference held today with the CBI, the Business Secretary Vince Cable announced £266 million of government-industry support for manufacturing supply chains, skills training and green construction. The event to discuss progress and next steps for industrial strategy was attended by over 200 key figures.
A further economic boost was delivered by news that BP has handed a new £65 million contract to a firm in Leeds. It means BP and their partners have now awarded over £1 billion in contracts to UK-based companies to help re-develop the Schiehallion and Loyal oil fields to the west of Shetland.
Prime Minister David Cameron said:
I have a clear mission that runs through everything that this government does: to make sure Britain succeeds in the tough global race of today. Around the world right now countries are competing for investment and jobs. If Britain is going to be at the head of the pack, a proper industrial strategy – supporting businesses that employ hundreds of thousands of people - is absolutely vital.

This isn't about state planning or picking winners, it's about talking to businesses of every size, in every sector, in every part of our country and asking the simple question – what can we do to help you succeed? Listening to when businesses want support from government and when they want us to back off.

From short to long term growth, there is absolutely no room for complacency - we have to keep our pedal firmly to the floor. Because I want to make sure that the next generation of quieter planes, cleaner cars and affordable food are all made and grown right here in Great Britain.
In his keynote speech to the industrial strategy conference held at the University of Warwick, Business Secretary Vince Cable announced that:
Business Secretary Vince Cable said:
A stronger economy won't be built overnight. It won't simply emerge of its own volition. It will come from long-term thinking and the government working in partnership with business.

We know manufacturing, training and innovation have all suffered. I hear it time and time again from companies across the UK. That's why our industrial strategy is making the most difference by strengthening manufacturing supply chains, supporting new designs and developing skills.

This support has already helped economic growth. We've secured £1 billion of new capital for our Business Bank, and a further £1.6 billion for the aerospace, automotive and agri-tech sectors. The focus is now on working in partnership with industry to deliver.
CBI Director-General John Cridland said:
We've achieved a lot over the last year but the challenge now is delivery against the many commitments that have been made.

The gathering momentum of recovery must not distract us from tackling the profound economic imbalances which built up during the boom years. It's important that, as things start to look up in the short term, we don't take our eye off the ball when it comes to long-term challenges.

Essentially, we're at a commercial tipping point, and delivering a coherent industrial strategy will undoubtedly boost confidence about the UK's long-term success.

For me this means 3 things: taking action to further improve the competitiveness of the UK's business environment, strengthening supply chains that underpin our key growth sectors, and raising the bar on implementation by both business and government.
TUC General Secretary Frances O'Grady said:
Several decades of 'letting the market rip' have left our economy dangerously unbalanced.

The TUC has long-held the view that government needs to take a more active role encouraging growth. It's great that this view has now become mainstream.

A modern industrial strategy, properly resourced and backed across government, can foster the creation of high-quality jobs across a range of sectors. Today's conference is a welcome step forward in ensuring that the gains from growth are spread across the country.
Government is working in partnership with business to create more opportunities, deliver more jobs and make the UK more competitive so that British businesses can thrive and compete with rising economies. This new long-term approach will lead to improved opportunities, better jobs, growth and economic prosperity.
Notes to editors:
1.Industrial strategy has five main strands:
Sectors: Addressing the concerns of every economic sector, but focusing on the eleven where government and business believe they can partner to make the most difference: increasing global competitiveness, strengthening manufacturing supply chains, supporting innovation and maximising export potential where UK is well placed to take a global lead.
Skills: Give business the chance to lead on developing the right skills and expertise, rather than industry training needs being decided by government. Businesses are encouraged to put their money into training, which gives them a strong incentive to get it right.
Technologies: investing in eight great technologies where the UK has the research expertise and business capability to become a world leader.
New Finance: Creating the British Business Bank, which will help remove barriers to the supply of business finance, helping smaller businesses grow by investing in people and equipment.
Government buying: Let businesses know clearly and sufficiently far in advance what government is planning to buy so that they can invest in the right skills and equipment to be able to supply their products and services on time.
2.Government has committed over £4 billion to industrial strategy broken down as follows:
£1.6 billion Industrial Strategy package at Budget 2013 (for the Aerospace, Automotive, and Agri-tech sectors)
£1 billion of new capital for a Business Bank
£600 million for 8 great Technologies in the Autumn Statement
£330 million for Employer Ownership Pilots skills funding (Rounds 1 and 2)
£245 million for Advanced Manufacturing Supply Chain Initiative (Rounds 1-4)
£200 million for Catapults
£100 million for the sequencing of 100,000 whole genomes over next 3-5 years.
3.The £266 million of joint investment announced today involves funding of £116 million from round 3 of AMSCI and £150 million for the construction sector via the Technology Strategy Board's Low Impact Buildings Innovation Platform.
4.Details of the 5 successful Advanced Manufacturing Supply Chain Initiative (AMSCI) projects are:
£7.72 million in grant and loan funding to a 5-strong consortium led by Oxford BioMedica to industrialise the production of gene therapy products. The consortium has also invested £1.43 million of their own money. This brings the total investment to £9.15 million.
£8.85 million grant to an eight-strong consortium led by Proctor & Gamble to manufacture products that open up new markets for particle based products manufactured in existing UK plants. The consortium has also invested £9.04 million of their own money, bringing the total investment to £17.89 million.
£6.94 million grant to a 13-strong consortium led by the Centre for Process Innovation to capitalise on new global export opportunities for printable electronics. The consortium has also invested £2.89 million of their own money which brings the total investment to £9.83 million.
£2.24 million grant to Aero Engine Controls and an SME partner Aero Stanrew Limited to develop innovative advanced electromagnetic technology in the UK. The companies have invested £4.73 million of their own money which brings the total investment to £6.97 million.
a fifth project has also been successful, and includes a US company in the healthcare sector as part of the consortium. Using the funding, the consortium will increase their presence and functions within the UK. More details of this grant will be published shortly.
5.The government's economic policy objective is to achieve 'strong, sustainable and balanced growth that is more evenly shared across the country and between industries'. It set 4 ambitions in the 'Plan for Growth', published at Budget 2011:
to create the most competitive tax system in the G20
to make the UK the best place in Europe to start, finance and grow a business
to encourage investment and exports as a route to a more balanced economy
to create a more educated workforce that is the most flexible in Europe.
Work is underway across government to achieve these ambitions, including progress on more than 250 measures as part of the Growth Review. Developing an Industrial Strategy gives new impetus to this work by providing businesses, investors and the public with more clarity about the long-term direction in which the government wants the economy to travel.
Published 11 September 2013