Government adopts 'Cloud First' policy for public sector IT
The launch of an expanded G-Cloud supplier framework will support growth in cloud computing.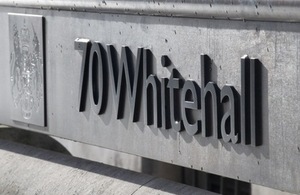 Purchases through the cloud should be the first option considered by public sector buyers of IT products and services, the government has confirmed today.
The formal introduction of a 'Cloud First' policy will drive wider adoption of cloud computing in the public sector, boosting business – and furthering savings and efficiencies – through the government CloudStore, which is a quicker, cheaper and more competitive way for the public sector to buy IT, Francis Maude, Minister for the Cabinet Office, said today.
In future, when procuring new or existing services, public sector organisations should consider and fully evaluate potential cloud solutions first – before they consider any other option. This approach is mandated to central government and strongly recommended to the wider public sector. Departments will remain free to choose an alternative to the cloud if they can demonstrate that it offers better value for money.
The announcement comes on the same day that the third G-Cloud supplier framework goes live providing more choice for buyers through CloudStore, the online marketplace for cloud IT services, and more business opportunities for companies. In all, there are 708 companies on the new framework – of which more than 80% are SMEs – including 368 firms new to G-Cloud.
Francis Maude said:
G-Cloud brings a step change in the way government buys IT. It's quicker, cheaper and more competitive, open to a wider range of companies, including a majority of SMEs, and offers more choice and innovation.

Many government departments already use G-Cloud, but IT costs are still too high. One way we can reduce them is to accelerate the adoption of Cloud across the public sector to maximise its benefits. The Cloud First policy will embed the skills a modern civil service needs to meet the demands of 21st-century digital government and help us get ahead in the global race.
A recent NAO report recognised that the government's efforts to cut the cost of government IT are working, with IT reforms and spending controls saving the taxpayer £316 million in 2011 to 2012 alone. G-Cloud is fundamental to public service and IT reform in creating a friction-free commissioning point for government IT services, and facilitating the move away from dependence on an oligopoly of large suppliers and lock-ins to long contracts. Government is also reviewing its governance arrangements in the IT area to create more agile structures that support delivery better, including delivery of cloud-based commissioning of commoditised IT services.
G-Cloud Programme Director Denise McDonagh said:
Sales from G-Cloud are rising steadily, with cumulative spend now over £18 million – two-thirds of it with SMEs. This is still small relative to overall government IT spend, and the transition to widespread purchasing of IT services as a commodity won't happen overnight. The adoption of a Cloud First policy will give added impetus for Whitehall and the wider public sector to move in this direction – complementing our ongoing work to encourage Cloud adoption and to help buyers adapt to this way of purchasing IT, which is already showing results.

Off-the-shelf products from the Cloud can be up to 30% of the cost of bespoke solutions. Today's launch of an expanded G-Cloud framework, with more companies offering an even greater range of products and services, will only enhance the cost and innovation benefits of a more competitive marketplace.
Published 5 May 2013