Government acts to boost the quality of care for mothers and babies
Measures to be taken on a national level to further improve safety standards in maternity care.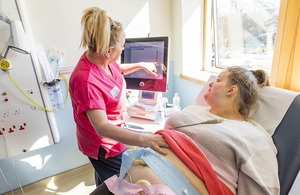 Comes as government responds in full to the independent review into East Kent maternity services led by Dr Bill Kirkup
It follows unprecedented levels of funding to grow the maternity workforce and boost neonatal services
Further action will be taken on a national level to improve safety for mothers and their babies within the NHS to ensure maternity and neonatal care everywhere is of the highest standard.
The government has published its full response to an independent review - led by former Regional Director of Public Health Dr Bill Kirkup CBE - into maternity failings at East Kent Hospitals NHS Trust. The review was launched because of concerns about the quality of care being provided by the trust.
Minister for Women's Health, Maria Caulfield, has announced she will now personally chair a new group overseeing maternity services nationwide.
The maternity and neonatal care national oversight group will bring together key people from the NHS and other organisations. It will look across work being carried out by a range of programmes set up to improve maternity and neonatal care, including the implementation of Dr Kirkup's and other recommendations, to ensure they are joined up and effective.
Minister for Women's Health Maria Caulfield said:
Every woman deserves to feel confident in the care they and their baby receive. I'd like to thank Dr Kirkup and all those involved in investigating the circumstances behind what's happened in these horrendous cases.

In particular, I'd like to thank the women and their families, who have gone through so much pain, for engaging with the investigation and helping it reach its findings.

I'm determined to see safety standards in maternity and neonatal care improve across the country. While this invaluable report focuses on the situation in East Kent, I want to see its recommendations implemented nationwide.

This government will continue investing in the maternity workforce and working with the NHS to raise standards.
In East Kent in particular, the minister will chair a local forum bringing together local NHS representatives, the Care Quality Commission and local MPs to share information and updates on the improvements being made to maternity services.
The Minister for Women's Health has also appointed Dr Kirkup to lead work with healthcare partners in response to 2 of the key recommendations, helping to ensure teams in maternity and neonatal care across England can work together more collaboratively so the best quality, compassionate care is provided.
Organisations from across the health and care system - including the Royal College of Obstetricians and Gynaecologists (RCOG) and the Royal College of Midwives (RCM) - have been asked by the government to support its efforts to promote and improve team-working in healthcare settings.
Royal colleges, professional regulators and employers have also been asked to investigate how they can improve workplace culture so standards of professional behaviour in maternity and neonatal settings are high. They'll consider what appropriate action can be taken if high standards fail to be met.
Dr Bill Kirkup said:
I see the government's response to 'Reading the signals' as an important step forward in addressing the issues that I identify.

I welcome the opportunity to lead this significant work. I look forward to drawing together an action group to advise me in doing so.
Following Dr Kirkup's report, the below actions are being or have been taken:
a special data taskforce has been set up by NHS England to better monitor patient safety in maternity and neonatal care nationwide
relevant bodies will work with DHSC to investigate how teamwork in maternity and neonatal care spaces can be improved
relevant bodies will work with DHSC to investigate how doctors in training can be better trained to improve teamworking and their own personal development
trusts will have to ensure there is proper representation of maternity care on their boards
the government will continue to work with NHS England on its approach to poorly performing trusts and their leadership
East Kent Hospitals NHS Trust will continue working to address the problems identified and improve standards
Dr Matthew Jolly, National Clinical Director for Maternity Review and Women's Health at NHS England, said:
We welcome the government's response to Dr Bill Kirkup's report - the failings in care for women, babies and their families using East Kent Hospital must not continue to be repeated.

NHS England has installed an improvement director at the trust alongside a senior advisor, and both are providing expert practical advice to the organisation on the actions it needs to implement to improve its maternity and neonate care, while senior national NHS clinical leaders are regularly visiting both maternity units to monitor progress.

In March, we published a delivery plan for maternity and neonatal care, which sets out what the NHS will do over the next 3 years to make care safer, more personalised and more equitable for all women, babies and families.
The government has taken steps to improve the quality of care for mothers and babies within the NHS, including £165 million of additional investment a year to improve maternity and neonatal services.
The NHS recently published the first ever Long Term Workforce Plan, backed by over £2.4 billion in government funding to deliver the biggest training expansion in NHS history to help meet the challenges of a growing and ageing population by recruiting and retaining hundreds of thousands more staff over the next 15 years.
The government also continues to build on the Maternity Transformation Programme, and continues to work closely with NHS England to implement the 3 year delivery plan for maternity and neonatal services that was published in March 2023. This plan looks to guide services towards safer and more personalised care for women, babies and families.
Published 20 July 2023