News story
GOV.UK could be this generation's tube map
Ben Terrett spoke at the Design Indaba Conference in South Africa about GOV.UK as an icon of practical design.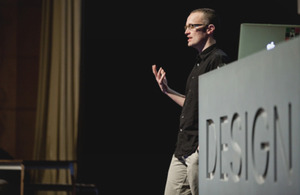 The UK is carrying its tradition of innovative, accessible design into the digital era, with its new single domain for government information, said Ben Terrett, Head of Design at the UK's Government Digital Service. Speaking at the influential Design Indaba Conference in South Africa, he suggested that GOV.UK could become an icon of practical design for this generation, in the same way that the famous London tube map was in the last century.
Also speaking at the conference were other design heavyweights, including John Meada, Head of Rhode Island School of Design and Paula Scher from the Global Design Agency Pentagram, demonstrating that GOV.UK is now considered on an equal footing with the best design in the world.
Terrett spoke of how, traditionally, the UK has made the information that citizens need more accessible through innovative design. He cited the London tube map, now familiar around the world, as well as the uniform font on road signs, which GOV.UK uses throughout the site. The web version of the font was adapted with the help of Margaret Calvert, one of the team from the 1960s who created the original. In a nice touch of circularity, delegates noted that Calvert was in fact born in South Africa.
As he spoke, Terrett began trending locally on Twitter in South Africa with delegates tweeting out the secret of GOV.UK success – putting user need and convenience, not the needs of government, at its heart, making GOV.UK unique as a government website. The build of GOV.UK was guided by this principle at every step, with the aim of delivering a service that is simpler, clearer and faster for users.
Ben Terrett, Head of Design at Government Digital Service, said;
Accessible design is good design. We should build a product that's as inclusive, legible and readable as possible. We are designing information, not just pushing pixels around a screen.

We're building this for the whole country — not just those used to the web – in fact, the people who most need our services are often the people who find them hardest to use. If we think about those people at the beginning, we should make a better site for everyone.
Commenting on the launch of GOV.UK last October, UK Digital Champion Martha Lane Fox - soon to be Baroness Lane Fox of Soho - said:
It's so exciting to see government lead the way in design and put the emphasis where it should be – on us, the users and citizens.
Published 28 February 2013