News story
Golden start for British troops at Invictus Games
Team GB begin with a win on the opening day of the Games which highlight the importance of sport for recovering service personnel.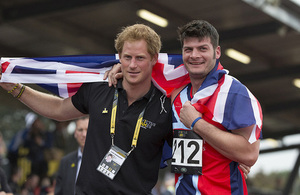 Royal Anglian Private Alex Tate got the UK military off to a winning start by bagging gold in the first final of the day. He swept to victory in the IT1 100-metre final in a blistering 12.17 seconds.
The race saw a British one-two, with veteran Kushal Limbu, formerly of the Royal Gurkha Rifles, finishing a close second.
Speaking about the event, Private Tate, who is still serving in the UK armed forces, said:
It's an incredible, amazing feeling standing up on that podium. To be the first gold medallist of the first Invictus games is amazing. The Games have given injured soldiers a chance to get out and compete.
Private Tate, aged 24, was injured in Afghanistan in 2012. Whilst on patrol checking for improvised explosive devices he spotted something suspicious. As he went to investigate he triggered an explosion and ended up losing his left leg below the knee.
Since then Private Tate has gone from strength to strength, receiving treatment first at the Defence Medical Rehabilitation Centre at Headley Court and then later at a personnel recovery unit.
Adaptive sport and adventure training are important parts of the defence recovery process, which every serving member and veteran of the British Invictus Games team has gone through
Private Tate explained:
Sport is such a big focus for me. It's been a massive part of my recovery, helping my fitness and mental state. My family have noticed a massive difference in me since I left my hospital bed, and that's down to sport.
Back on the track, it was an amazing hat-trick of golds for Royal Marine Joseph Townsend of 40 Commando who claimed top spot in the IT4 100, 200 and 1,500-metre wheel finals. And GB Team captain, David Henson, also took gold in the IT2 200-metre final.
Other Team GB medallists included Leading Engineering Technician Mickaela Richards who won gold in both the 100 and 400-metre 'open' finals and Lance Corporal Derek Derenalagi, who picked up a silver in the IT2 100-metre final. You can find a full list of the first day's results on the Invictus Games website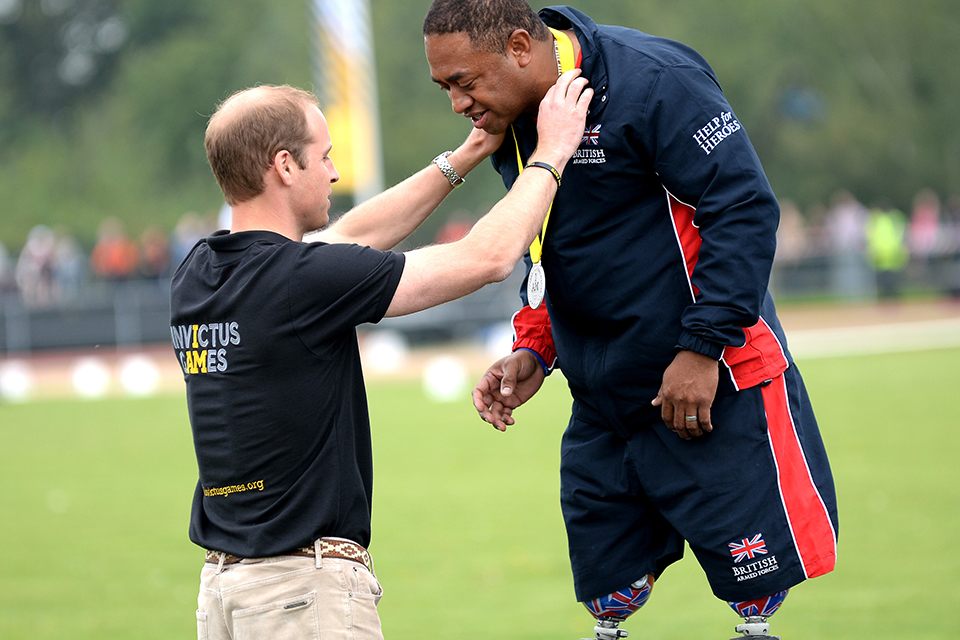 Over the 4 days of competition, Team GB has over 130 individuals competing in the Invictus Games in a range of events from athletics through to archery, with 50 of them still serving in the British armed forces.
Speaking about the Games, Defence Secretary Michael Fallon said:
This is a momentous event for the British team who demonstrate the remarkable spirit and determination that define our armed forces. They are testament to the excellent care and support that is available through our world-renowned defence rehabilitation process.
In establishing the Defence Recovery Capability, the Ministry of Defence, in partnership with Help for Heroes, the Royal British Legion and other charities and organisations, is providing care for those with complex needs and prepares them either for a return to military duty or transition to civilian life.
Published 12 September 2014