World news story
Globe Theatre and Theatre Forum in Tashkent
Shakespeare's Globe Theatre production of Hamlet and "Theatre Matters" Forum took place in Tashkent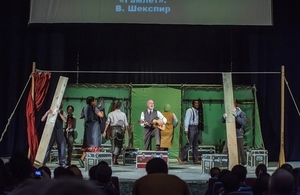 On November 4, 2015, Shakespeare's Globe Theatre visited Uzbekistan as part of its worldwide tour to perform Hamlet at the National Academic Drama Theatre of Uzbekistan. This visit was undertaken with the support of the British Council in Uzbekistan, the Ministry of Culture and Sport of the Republic of Uzbekistan and Uzbek Theatre National Agency. Under the programme, the Theatrical Forum was held on November 5-6, 2015 at the Uzbek National Academic Drama Theatre. The forum was dedicated to Shakespeare's 450th birthday and aimed at discussion of the role of theatre in the modern world. It also promotes new art projects with British partners, including master classes and exchange of experience with leading arts universities of the United Kingdom.
Shakespeare's Globe visit and performance of Hamlet were as part of the Globe to Globe Hamlet tour to all 205 countries in the world. It began on 23 April 2014, the 450th anniversary of Shakespeare's birth and it will end in April 2016. The tour, directed by the Globe's Artistic Director Dominic Dromgoole, is an unprecedented theatrical adventure.
The UK-Uzbekistan ''Theatre matters'' National Forum was a two-day gathering of professionals from Uzbekistan's thirty-seven state theatres with guest speakers from the UK cultural sector, including: Stella Hall, Creative producer at Media City, Salford; Kerry Michael, Artistic Director and Chief Executive of the Theatre Royal Stratford East; Jon Morgan, Director of the Federation of Scottish Theatre; and Gregory Nash, Arts Director at the British Council. It was a good opportunity to discuss the role of theatre today in both countries, and the opportunities for partnerships to support talent, creativity and innovation. In his welcoming speech at the UK-Uzbekistan ''Theatre matters'' National Forum Her Majesty's Ambassador Christopher Allan said:
I hope that today's Forum will play an important role in supporting the work of Uzbek theatres, and serve as a platform for sharing knowledge and expertise. It would be great if it also led to new avenues for collaboration between the UK and Uzbekistan in theatre development.
Document information
Published: 11 November 2015