News story
Global Summit to End Sexual Violence in Conflict - the aims
An overview of the Global Summit to End Sexual Violence in Conflict.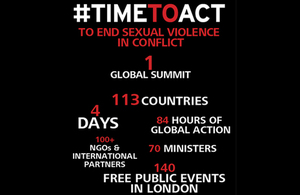 This Summit will welcome over 100 countries and over 900 experts, NGOs, survivors, Faith leaders, and International organisations from across the world that share our commitment to end sexual violence in conflict. Here we look in detail at what the summit is about and what it hopes to achieve.
What does the summit aim to achieve?
Shatter the culture of impunity
We want to shatter the culture of impunity for sexual violence in conflict by launching a new International Protocol with international standards for documenting and investigating sexual violence in conflict zones. The International Protocol will help to strengthen prosecutions for rape in conflict, increasing the prospects for successful convictions. It knocks down one of the key barriers that have prevented successful prosecutions in the past. We will urge countries to strengthen their domestic laws so that those responsible for sexual violence in conflict can be reliably prosecuted both in and outside the countries where they committed their appalling crimes. This includes introducing laws which support the aims and objectives of the International Criminal Court.
Take practical steps
Second, we will take practical steps to reduce the dangers women face in conflict zones around the world. We will call for all soldiers and peacekeepers to be trained not only to understand the gravity of sexual violence in conflict, but to prevent it and to protect people.
Support survivors
Third, we will increase support for survivors of sexual violence, and for the human rights defenders who shine a spotlight on these crimes often at serious risk to themselves. The UK government has already committed more than £140m to this effort, and we will call on others to join us so many more traumatised men, women and children who can access critical support.
Change attitudes
Fourth and finally, we want this Summit to produce a seismic shift in attitudes. We want to debunk the myth that rape in war is somehow inevitable or a lesser crime, to demonstrate the scale of this problem and its impact on every continent, and on men and boys as well as women and girls. We want people, governments, faith leaders and civil society across the world to condemn the horrors of warzone sexual violence, to see the cycles of conflict it creates and to grasp the role they have to play in ending this crime once and for all.
What is the purpose of the Fringe?
Raising awareness
The gathering of 115 governments, representatives of civil society and a vast range of experts at the Summit will help deliver practical outcomes. But in order for us to truly tackle this issue we need to raise awareness of this issue amongst the public and begin to change global attitudes towards these crimes. There will be a large accompanying Fringe of events alongside the formal meetings which will be open to the public. The Fringe has a Theatre, cinema, Gallery area, Market Place and Art and Exhibition Centre.
Over 90 NGOs are delivering a variety of events that will explore sexual violence in conflict and related issues, through film screenings, performances, theatre, exhibitions and panel discussions. The Fringe will discuss a broader range of issues related to sexual violence in conflict, including conflict prevention; women's rights; international justice; business and human rights; children in conflict; men and boys and many others. It will be an opportunity to showcase expertise and programmes from around the world.
Open to all
The Fringe is open for everyone to attend. It is an opportunity to engage new audiences in the fight against sexual violence in conflict and to create a groundswell of public support that can push real policy change.
Fringe activities will include film showings, theatre performances, photographic exhibitions and panel discussions which will explore the issue of sexual violence in conflict and wider related issues. They will be presented in different ways that will ensure that the exhibitions are interesting and accessible for both experts and people who are new to the issue. The Fringe will cover related issues such as conflict prevention, women's rights and participation, men and boys, children affected by conflict, international justice and wider issues of violence against women and girls.
Further information
Read the UN Declaration of Commitment to End Sexual Violence in Conflict
Read more about the UK's work on preventing sexual violence in conflict on our Tumblr blog
Published 9 June 2014