News story
Great public events in London at Global Summit 10-12 June
Innovative and exciting free public events at Global Summit to End Sexual Violence in Conflict.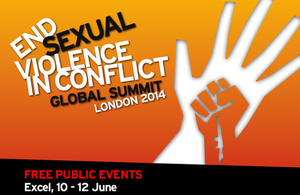 The Global Summit to End Sexual Violence in Conflict will be hosted by Angelina Jolie and William Hague at the ExCel Centre in London from 10-13 June 2014. The Summit will be the largest international event ever held on the issue of sexual violence in conflict. We want this Summit to be the moment that the world wakes up and says that sexual violence is not an inevitable part of war.
Open from 0900-2000 from 10-12 June, the Global Summit Fringe aims to increase awareness of sexual violence in conflict and why now is the #TimeToAct to end it. The Fringe is free to attend and there is no need to register in advance.
Highlights of the Fringe include:
The European premier of Charming Baker's Faith's Leap, presented by Jealous Gallery
Performance - 'Musicians Without Borders' - 'Even if we Lose our Lives' - 'I am Here' - 'Girl be Heard' - Royal Court Theatre presents the World Premiere of award-winning 'Liberian Girl'
Gallery - A moving exhibition of photographs by award-winning Pete Muller, 'The Beauty in the Middle: Women of the Congo Speak Out'
Silent Cinema - Featuring over 30 films and shorts including 'Seeds of Hope' - 'They Slept With Me' - 'Through Our Eyes' - 'The Whistleblower' - 'Banaz – a Love Story' - 'The Greatest Silence; Rape in the Congo'
Discussion and debate - Challenge yourself, meet the experts and have your say. Includes Laura Bates from 'Everyday Sexism' and Danai Gurira from 'The Walking Dead'
Marketplace - with crafts from around the world.
Selected events by day
Wednesday 11 June
The Whistleblower
(Cinema)
2010 film directed by Larysa Kondracki inspired by the story of Kathryn Bolkovac, a Nebraska police officer who was recruited as a peacekeeper in post-war Bosnia and Herzegovina in 1999.
Katswe Sistahood
(Performance)
Katswe Sistahood, a young women's organisation based in Harare, Zimbabwe that works on sexual and reproductive health and rights, will use monologues, discussion and dance to provide important insights on young women and girls' struggles in the face of conflict.
We Will Speak Out
(Discussion)
A debate on the role of faith in fighting sexual violence in conflict, bringing together faith leaders and communities.
Global Justice Centre
(Discussion)
A simulated post-conflict peace negotiation to highlight the challenges to, and importance, of women's equal participation in post-conflict processes.
Thursday 12 June
Breaking the Silence
(Theatre)
An awareness raising play written by Bluewin for the women's division of Human Rights Watch tackling the global issues that face millions of women today including sexual violence, rape as a war crime, trafficking, child marriage and domestic violence.
Even if we lose our lives
(Theatre)
'Even if we lose our lives' is a moving theatre performance that brings together the stories of 3 Afghan women; a teacher, a gynaecologist and a women who runs an organisation providing family mediation services.
Girl Be Heard Congo
(Performance)
Written and performed by girls aged 12-21, Girl Be Heard Congo showcases theatre, dance, music, monologues, poetry, and activism to raise awareness about discrimination and violence against women in the Democratic Republic of Congo.
BIRN
(Discussion)
A presentation dedicated to the topic of wartime sexual violence in Bosnia and Herzegovina
AB Colombia
(Discussion)
A discussion to explore the factors that have made women defenders and journalists so vulnerable to sexual violence attacks focusing on Colombia and Egypt.
(Please note that some content may not be suitable for under 16s.)
The following events have already happened
Tuesday 10 June
Liberian Girl
(Theatre)
A dramatised presentation by the Royal Court Theatre of 'Liberian Girl' written by Diana Nneka Atuona (winner of the Alfred Fagon Award for Playwriting 2014). This performance will be repeated on Thursday 12th and is available for pre-registration.
Mock trial
(Performance)
Serene Communications will perform a mock trial of the Women, Peace and Security UN Resolution with defence, prosecution and a presiding judge. Women from conflict zones will act as witnesses with the audience playing the role of the jury.
Hackathon
(Technical challenge)
Groups of developers compete over three days to produce tools or apps which can support the four aims of the summit. This event is co-hosted by the Netherlands Embassy in London Chayn and MakeSense.
To register to take part in the event, please go to http://endsvchack.com/.
Seeds of Hope
(Cinema)
Fiona Lloyd-Davies' eye-opening film centred on one woman's mission to help Congolese rape victims rebuild their lives.
Model UN
(Discussion)
Students from London International Model UN will take on the roles of the UN Security Council to discuss and amend a resolution on conflict-related sexual violence.
Return to Manhood
(Discussion)
A discussion on the importance of educating boys in the fight against sexual violence in conflict hosted by Return to Manhood.
One of the creative events taking place in the Fringe is the European premier of Charming Baker's Faith's Leap, presented by Jealous Gallery. Watch a video of artist and sculptor Charming Baker talking about his architectural piece 'Faith's Leap' and why it is relevant to the Global Summit:
Charming Baker talks about 'Faith's Leap'
Charming Baker said:
"I've got two pieces showing at the Summit. The pieces weren't about conflict specifically, but they were about human fears, about overcoming crippling fears or the idea of problems or constraints. I think art can do something. It's not that it should entertain, but it should engage you enough and make you think.
"A Summit like this can open the doors, rather than pretending this scary thing isn't happening. If we can get people there and make them aware and get them to see what's going on, without scaring them off. Just saying that this is the truth, let's deal with it, let's do something about it."
You can subscribe to email updates and follow the latest news on Facebook and Twitter
The Global Summit to End Sexual Violence in Conflict will be the largest event ever held on this issue, with over 148 governments and international bodies represented, as well as NGOs and members of the military, medical and legal professions from around the world.
You can be a part of it.
Published 9 May 2014
Last updated 30 May 2014
+ show all updates
Updated programme
Addition of Hackathon event.
First published.